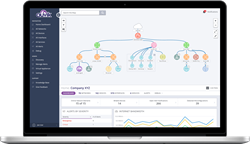 The MSP demand for Auvik continues to be strong and eTECH will play an integral role in helping us meet that demand.
Waterloo, ON (PRWEB) June 23, 2016
To extend its reach into the managed service provider market, Auvik Networks has forged an agreement with channel developer eTECH Channel LLC.
The agreement, announced today, will market Auvik's network infrastructure remote monitoring and management (RMM) to MSPs across the United States.
"Auvik has taken the MSP market by storm, creating a new category of product that brings tremendous value to managed service providers," said Andrew Orso, president of eTECH. "We expect great adoption rates in our partner community, and we're excited about developing new engagements for Auvik."
Auvik provides instant visibility and control of network infrastructure devices, such as routers, switches, and firewalls. Using Auvik, MSPs can slash network troubleshooting time and improve proactive network maintenance in ways that weren't previously possible.
"As Auvik grows, channel developers are becoming increasingly important to our expansion," said Alex Hoff, VP Product and Sales at Auvik. "The MSP demand for our software continues to be strong and eTECH will play an integral role in helping us meet that demand."
About Auvik Networks
With its cloud-based network management system, Auvik helps managed service providers build a profitable network service. Auvik's infrastructure-focused RMM (remote monitoring and management) provides unprecedented insight into client networks and automates complex and time-consuming tasks so MSPs can scale their businesses efficiently. Auvik was named to the ChannelE2E 100 list in 2016, which identifies top disruptors and innovators in the IT channel. Visit http://www.auvik.com or follow @AuvikNetworks on Twitter.
About eTECH Channel LLC
eTECH Channel drives channel innovation and development for many renowned and emerging companies. At eTECH Channel, the partner relationship is the core of our business. We build, maintain, and manage sound relationships with our partner community so that we can drive revenue for our vendors. With account executives in the field, eTECH interacts with proven partners every day. After shaping and redefining the channel development process, eTECH Channel leads a trusted team of personnel that are transforming the landscape of the channel development process.
Media contact
Jennifer Tribe
Director of Content, Auvik Networks
jtribe(at)auvik(dot)com
519-804-4700 x132