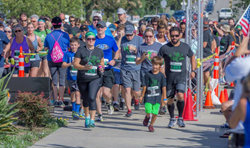 Over the last five years, Joggin' for Frogmen events have raised more that $550,000 for military families."
San Diego, CA (PRWEB) June 29, 2016
The Navy SEAL Foundation's Joggin' for Frogmen 5th Annual 5k race will take place on July 30th 2016 at Naval Training Center Park in Liberty Station, 2455 Cushing Road, San Diego.
Inspired by U.S. Navy SEALs ("frogmen"), the Navy SEAL Foundation's Joggin' for Frogmen race series brings together communities to celebrate the lives of America's fallen and to express our deep gratitude to those still serving.
The San Diego event has raised over $310,000 over the last 4 years and will look to make this the most successful year to date marking the 5th Anniversary of the race series. Race registration for the 5k is currently $45 for adult civilians, $40 for adult Active Duty Military, and $10 for the Tadpole Trot (children 6 & under). Registration for the 5k and Tadpole Trot will include custom finisher's medals for all participants, chip timing and bibs, and a race t-shirt. Packet Pickups will be on Friday, July 29th, from 11am-7pm at Road Runner Sports, 5553 Copley Drive, San Diego, and race morning at NTC Park. After the race, athletes and spectators can enjoy a festival style event including a beer garden, food trucks and parachute jumpers landing in the park.
A Virtual Racer option is available for participants who can't make the race, but still want to fundraise for the Navy SEAL Foundation. Once Virtual Racers raise $100 they will receive a patriotic shirt and a medal.
Events such as this support the Navy SEAL Foundation and its mission to provide both immediate assistance and ongoing support to U.S. Navy SEALs and the entire Naval Special Warfare (NSW) community – veterans, active duty, wounded, transitioning and their families as well as families of the fallen. Over the last five years, Joggin' for Frogmen events nationwide have raised more than $550,000 for military families.
To get involved, sign up for a race today, or become a team member or individual fundraiser by visiting http://www.jogginforfrogmen.com
ABOUT NAVY SEAL FOUNDATION
The Navy SEAL Foundation is focused on preservation of the Naval Special Warfare (NSW) force and their families. It provides immediate and ongoing support and assistance to the NSW community and is a source of empowerment and comfort for the families of the fallen. The Foundation offers a comprehensive set of programs specifically designed to improve health and welfare, build and enhance resiliency, empower and educate families and provide critical support during times of illness, injury or loss.
The Navy SEAL Foundation is a 501(c)(3), tax exempt, national non-profit charitable foundation which has maintained a 4-star rating by Charity Navigator since November 2011 for sound fiscal management and commitment to accountability and transparency and is also certified by the Independent Charities of America as a "Best in America" charity. Of every dollar donated in 2014*, 95 cents went directly to current or future support services. [*Source: Most recent audited NSF financial statement] Tax ID# 31-1728910 / CFC# 11454.
To learn more, visit http://www.navysealfoundation.org/. Follow us: https://www.facebook.com/NavySEALfoundation/