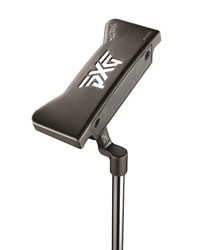 The best way to win tournaments is with your short game. I play the milled insert Mustang and absolutely love the way it looks, feels and most importantly performs.
Scottsdale, AZ (PRWEB) June 22, 2016
PXG has released a new line of milled insert putters designed to complement putting strokes of all styles. Not just another pretty face, the new 11-model putter collection features the same game-changing TPE core technology found in the company's signature PXG 0311 irons.
"The best way to win tournaments is with your short game," said PXG professional Billy Horschel. "I play the milled insert Mustang and absolutely love the way it looks, feels and most importantly performs."
Thermoplastic elastomer (TPE) core technology in conjunction with a soft billet milled 304 stainless steel face provide an extremely solid feel at impact and support a high MOI for all models. The combination also promotes a more consistent feel across the entire face for enhanced playability. TPE thickness on all models, with the exception of the Gunboat, is 0.150 inches.
The Gunboat is an entirely new design that has a TPE core that extends the entire depth of the putter. It is a modern, extremely high MOI mallet-style putter with a single-bend shaft that creates a full-shaft of offset and a face-balanced hang angle. The Gunboat is available in both 370 gram and 400 gram weighted versions.
Putter bodies are milled from high quality 303 stainless steel and aircraft-grade aluminum, and feature weighting elements in both lighter titanium and heavier tungsten. The weights not only allow for the head weight to be adjusted during a fitting, they also serve as easy alignment aids to build confidence when standing over a shot.
Since arriving on the scene in 2015, PXG, founded by American entrepreneur Bob Parsons, has become the talk of the industry with its disruptive no cost constraints, no time constraints take on product engineering. PXG is known for employing leading technology to deliver indisputable performance – and the introduction of its new milled insert putter collection is no different.
"Nobody makes golf clubs the way we do," said PXG founder Bob Parsons. "We take our time and spare no expense. Being better is not good enough. We've got to be the very best. Whether you are looking to save par or pick up a birdie, our new milled insert putter collection delivers a feel that can't be beat."
New models available include the Dagger, Dagger C, Brandon, Brandon S, Brandon H, Mustang, Mustang S, Mustang C, Drone, Drone C and Gunboat.
For more information about PXG visit http://www.PXG.com.
About Parsons Xtreme Golf – PXG, A YAM Worldwide Company
Parsons Xtreme Golf (PXG) is based in Scottsdale, Arizona. The company was founded by Go Daddy founder, businessman and philanthropist Bob Parsons in 2014. Leveraging breakthrough technology and sophisticated manufacturing processes that integrate high-performance alloys, PXG produces the finest golf clubs in the world. The company has over 60 global patents issued for its proprietary designs.
PXG clubs are currently being played on all three major U.S. Tours. PXG's professional staff includes PGA TOUR Champions Zach Johnson, Billy Horschel, Chris Kirk, Ryan Moore, James Hahn and Charles Howell III, Champions Tour golfer Rocco Mediate, and LPGA players Cristie Kerr, Gerina Piller, Alison Lee, Beatriz Recari and Sadena Parks.