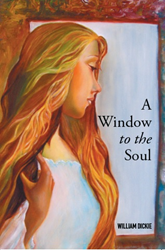 The one true thread connecting all of my poetry is the thread of love.
PERTH, Australia (PRWEB) June 24, 2016
Author and poet William Dickie hopes his new book, "A Window to the Soul", will act like a candle in a darkened room: showing readers just enough light to help them explore their own boundaries.
Dickie has felt the loneliness of a life constantly on the go through his time spent working in the oil and gas industry. Many people romanticize the notion of constant travel, failing to realize the rigors of frequently uprooting. His poetry is a way to find creative release surrounding the events of his life.
From companionship and unrequited love to the simple joys in life, Dickie aims to explore the human experience and process the tricky parts in ways that illuminate the soul.
"The one true thread connecting all of my poetry is the thread of love," Dickie said. "Whether it is a poem on divine love or human love, love for pets or love for the environment that you find yourself in, all the poems are connected with this in mind."
For more information, visit the Amazon listing.
A Window to the Soul
By William Dickie
ISBN: 978-1-5035-0931-3
Available in softcover, hardcover, e-book
Available on Amazon, Barnes & Noble and Xlibris
About the author
William Dickie grew up in a small town called Saltcoats, situated on the Ayrshire Coast, in Scotland, about thirty miles from the iconic city of Glasgow. This small town set his foundation to be curious about life and question everything, leading to travel and work within Scotland, initially living in Edinburgh for ten years and finally ending up in the Granite City of Aberdeen and the oil and gas industry, an industry which he has spent more than twenty-five years in.
# # #
For review copies or interview requests, contact:
Craig Cainkar
(317) 602-7137
ccainkar(at)bohlsengroup(dot)com