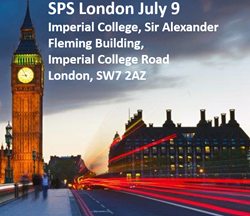 Toronto, ON (PRWEB) June 22, 2016
KWizCom, a leading developer of SharePoint Forms & Mobile Solution, as well as multiple other turn-key SharePoint add-ons and apps for Office 365, has been confirmed a Platinum Sponsor of SharePoint Saturday London, and joins other sponsors in bringing this event to the Imperial College in London on July 9, 2016.
In addition to exhibiting, KWizCom will be participating in a speaking session, which will be presented by Nimrod Geva, the Product Group Manager at KWizCom. In his session, entitled "Who Said You Have to Be a Power-User to Create Dynamic Forms?" Mr. Geva will demonstrate how non-technical business users can quickly create powerful forms by using KWizCom Forms - a 100% SharePoint-native Forms solution for SharePoint on-premises and Office 365.
Attendees visiting KWizCom booth will have the opportunity to win a prize while familiarizing themselves with the company's top-notch add-ons.
SharePoint Saturday London will bring together SharePoint administrators, end users, architects, developers, and other professionals that work with Microsoft SharePoint Technologies. For more details on the conference, please visit: http://www.spsevents.org/city/London/London2016/home
To learn about the SharePoint add-ons and apps for Office 365 that KWizCom Corporation is offering, please visit the company's website at http://www.kwizcom.com.
Follow KWizCom on Twitter @KWizCom
Become a fan of KWizCom on Facebook: https://www.facebook.com/KWizCom
Join KWizCom on LinkedIn: http://www.linkedin.com/company/kwizcom
Contact a KWizCom Account Specialist at +1-905-370-0333/+1-855-KWIZCOM or info(at)kwizcom(dot)com
About KWizCom Corporation
Since 2005, KWizCom has provided innovative solutions and services to make SharePoint even better for over 7,000 companies worldwide. KWizCom is a leading provider of SharePoint Forms, Mobile, Wiki solutions, and over 80 other add-ons for SharePoint on-premises and apps for Office 365. KWizCom software is available to federal, state and local government agencies through GSA schedule.
KWizCom is a Gold Certified Microsoft Partner is headquartered in Toronto, Canada to find out more about the company visit http://www.kwizcom.com .