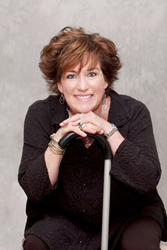 At harmony16, attendees will hear from speakers and presenters, like Julia Fox Garrison, who have lived long term and post-acute care either as patient, provider, advocator or regulator.
Topsfield, MA (PRWEB) June 23, 2016
Leaders in post-acute care will gather together in Connecticut in early November at one of the industry's premier trend influencer symposiums, "harmony16" hosted by Massachusetts-based Harmony Healthcare International (HHI). The event attracts over 250 administrators, directors of nursing, rehabilitation managers and other management and corporate personnel representing the skilled nursing and assisted living markets.
Julia Fox Garrison, the author of 'Don't Leave Me This Way (or when I get back on my feet you'll be sorry)', will give a keynote presentation at this year's event. Garrison's book and presentation chronicles her struggle to regain control over her life and her body, following a massive hemorrhage resulting in a paralyzing stroke. As a long-term care patient, she has experienced the healthcare system up-close-and-personal, witnessing the inner-workings of healthcare. Her perspective from inside the bed rails provides observations and insights to better quality healthcare and patient experience outcome.
"Julia's firsthand experience as a long-term care patient and her experiences in the healthcare system is the backdrop of her compelling message of strength and hope," said Kris Mastrangelo, OTR/L, LNHA, MBA, President and CEO of Harmony Healthcare International (HHI), "She uses humor, optimism, laughter and determination to exhibit her tale of transcendence over an almost insurmountable life challenge."
Garrison has appeared on national television and has spoken before countless healthcare, educational, advocacy and corporate audiences.
"harmony16" will be held at Foxwoods Resort Casino in Ledyard, Connecticut on November 4 and 5, 2016. The symposium will spotlight several featured industry and health care trend influencers who will address topics relevant to the state of the post-acute care industry today. In addition, 24 break-out sessions will be offered on a variety of clinical, operational, financial and marketing topics. Up to 12 hours of continuing education credit will be offered for Nursing Home Administrators, Nurses, Speech Language Pathologists, Occupational and Physical Therapists. Registration information and costs can be found at: http://hhi.hub.am/28MSLtz.
"This year's theme, "A New Generation of C.A.R.E." addresses the changing compliance and regulatory landscape that providers are facing and promotes the idea that taking action in bettering the quality of care of our nation's elder population is of paramount importance," said Mastrangelo, "At harmony16, attendees will hear from speakers and presenters, like Julia Fox Garrison, who have lived long-term and post-acute care either as patient, provider, advocator or regulator."
About Harmony Healthcare International
Harmony Healthcare International (HHI) was founded in 2001. With headquarters in Topsfield, MA, Harmony Healthcare International (HHI) serves clients in the skilled nursing, acute care, home health and assisted living markets with operational and compliance consulting, training and educational programs and talent enrichment services. With a staff of accomplished HealthCARE Specialists who serve as consultants to For-Profit, Not-For-Profit, Standalone and Multi-Facility Chains across the country, Harmony Healthcare International (HHI) has been ranked among the top 5,000 fastest growing private companies in the U.S. for 3 consecutive years by Inc. Magazine. Harmony Healthcare International, "We C.A.R.E. About Care." Visit us at: http://www.harmony-healthcare.com/
Media Contact:
Jon A. Di Gesu
Vice President of Marketing and Public Relations
jdigesu(at)harmony-healthcare(dot)com
@JonDiGesu
(O) 978.887.8919 (C) 603.770.5731