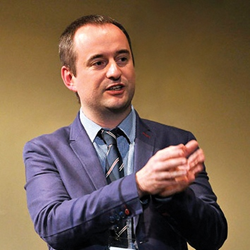 Yorba Linda, CA (PRWEB) June 28, 2016
Vitamin D deficiency was found to be common among all age groups, according to recent studies. Vitamin D and parathyroid hormone (PTH) are important regulators of the bone and mineral homeostasis.
DiaSorin is sponsoring a new, free educational webinar, "The Evolution of PTH and Vitamin D Testing," which will discuss the role of vitamin D and PTH on calcium metabolism and bone health, and review the metabolism and clinical utility of PTH, 1,25 dihydroxyvitamin D, and 25 OH Vitamin D. The discussion will address how varied laboratory assays are used to diagnose and monitor conditions with abnormal calcium levels. Attendees will learn about the clinical background of PTH, 1,25 Dihydroxyvitamin D and 25 OH Vitamin D; challenges of testing of PTH and Vitamin D; and about actions and programs for standardization of vitamin D and PTH assays.
The speaker is Damien Gruson, PhD, professor and associate laboratory director at Saint-Luc University Hospital, Brussels, Belgium. Dr. Gruson was awarded a degree of pharmacist, and later, of specialist in laboratory medicine from the Catholic University of Louvain, Brussels, where he is a member of the research unit on Endocrinology, Diabetes, and Nutrition. He has published numerous articles in international peer-reviewed journals. Dr. Gruson's complete bio is found on the LabRoots website.
The free webinar, hosted by LabRoots, will be presented on July 14, 2016, at 9 am PT/12 pm ET.
For full details about the event and free registration, click here.
About DiaSorin:
DiaSorin Inc. offers the broadest, fully automated Infectious Disease and Specialty Diagnostics menu including the Best-in-Class Vitamin D. These quality assays are analyzed on the versatile LIAISON® XL platform. We provide value through sales, service and support solutions to clinical laboratories by consolidating their menu in order to streamline processes and increase efficiency.
About LabRoots:
LabRoots is the leading scientific social networking website and producer of educational virtual events and webinars. Contributing to the advancement of science through content sharing capabilities, LabRoots is a powerful advocate in amplifying global networks and communities. Founded in 2008, LabRoots emphasizes digital innovation in scientific collaboration and learning, and is a primary source for current scientific news, webinars, virtual conferences, and more. LabRoots has grown into the world's largest series of virtual events within the Life Sciences and Clinical Diagnostics community.