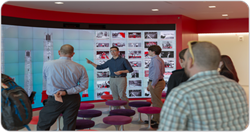 The Code+Art contest asks students to bring together design, data, and computation to produce stunning visualizations for the large-scale video walls
Cypress, California (PRWEB) June 24, 2016
Christie®, a leader in creating and delivering the world's best visual and audio experiences, is proud to have sponsored the Code+Art Student Visualization Contest at North Carolina State University for the second year in a row.
Students submitted data visualization artwork that included procedural environments, interactive visualizations and algorithmic generative art. The art was created for video walls in the James B. Hunt Jr. Library, which include the library's 20-foot wide Art Wall and the iPearl Immersion Theater, both featuring Christie MicroTiles™.
"The Code+Art contest asks students to bring together design, data, and computation to produce stunning visualizations for the large-scale video walls," says Alison Blaine, NCSU Libraries Fellow and manager of the Code+Art program this year. "The excellence of the projects submitted are a testament to how talented our students are and how much it means to them to have a venue like this to share their work."
The top prize went to Santhosh Radhakrishnan, a graduate student in Aerospace Engineering, for his work titled "Code_Climate," which uses shape and color to display global temperature change data from 1880-2016. Second place went to Ryan West and Augustus Vieweg, both in the Electrical Engineering program, for "NSCUwitteRed," while Lucas Rumney's "Spiral's Edge" took third place. "Skybox," by Conor Lenhardt, Nick Hyde, Ben Webber, Peter Rozakis and Parker Yingling, received an Honorable Mention.
"We're pleased to have once again sponsored the Code+Art contest," says Kathryn Cress, vice president, global & corporate marketing, Christie. "The use of the display walls by the students at NCSU in such a creative and informative fashion is inspiring and is truly a reflection of Christie's belief that technology should enable these kinds of shared experiences."
About Christie®
Christie Digital Systems USA, Inc. is a global visual and audio technologies company and is a wholly-owned subsidiary of Ushio, Inc., Japan, (JP:6925). Consistently setting the standards by being the first to market some of the world's most advanced projectors and complete system displays, Christie is recognized as one of the most innovative visual technology companies in the world. From retail displays to Hollywood, mission critical command centers to classrooms and training simulators, Christie display solutions and projectors capture the attention of audiences around the world with dynamic and stunning images. Visit christiedigital.com.
About the NCSU Libraries
The NCSU Libraries is the gateway to knowledge for the NC State University community and its partners. The Libraries' collections reflect the historic strengths of the University as well as its vision for the future. With extensive research holdings in the areas of engineering, science, technology, and agriculture, the NCSU Libraries is recognized as a national leader in academic libraries. The Libraries also supports innovation and entrepreneurship through its makerspaces, digital production studios, and a variety of visualization spaces. To learn more, follow them on Facebook, Twitter, and Instagram.
Follow us:
twitter.com/christiedigital
twitter.com/christievive
facebook.com/christiedigital/
linkedin.com/company/christie-digital-systems
youtube.com/christiedigital
instagram.com/christiedigital/
vimeo.com/christiedigital
#christiedigital
"Christie" is a trademark of Christie Digital Systems USA, Inc., registered in the United States of America and certain other countries.
DLP® is a registered trademark of Texas Instruments