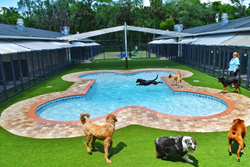 COLUMBUS, Ohio (PRWEB) June 27, 2016
Crane Group, a family-owned holding and management company based in Columbus, Ohio, has purchased a majority interest in Pet Paradise, an upscale pet boarding, day camp and grooming company located in Jacksonville, Florida. The purchase is Crane Group's first investment in the pet industry sector.
Pet Paradise is the rapidly growing leader in the pet boarding industry with over 600 employees and 26 locations across seven states. The company last year served more than 55,000 pet guests, whose families booked over 600,000 nights in the company's state-of-the-art resorts. Pet Paradise resorts are distinguished by their climate-controlled suites, pools, public web cameras and spacious artificial turf play areas.
"Pet Paradise is a well-run, fast-growing company in a market that we believe will only get stronger," said Crane Group President and CEO Tanny Crane. "As we looked more deeply at the company, it became clear to us that they place a high value on their people and a strong focus on customer service, and that they love what they do. It's been our goal to diversify, and this partnership is a great opportunity for us and for Pet Paradise."
Crane Group's operating businesses provide a diverse array of best-in-class products and services, including home renovation services, seawall systems and pedestrian bridges, crushing and screening machinery, and gas detection sensors.
Crane Group and Pet Paradise share many core values including: a focus on excellence, a belief that team members are the foundation of success and a commitment to providing philanthropic support to local communities.
"The pet industry has experienced significant growth during the past 10 years and has shown to be resilient even during the recession of 2008-2010," said Fred Goldsmith, founder of Pet Paradise. "We see tremendous future growth in the pet services industry as the humanization of pets continues to fuel spending in this sector."
The Crane Group investment marks the next phase for Pet Paradise, accelerating its growth plans as it expands into more cities and states. The company's executive and key management team will stay in place, and all resort personnel will remain the same. Pet Paradise's current CEO Fred Goldsmith will transition to a founder role while Fernando Acosta-Rua, current COO and executive vice president of finance, will assume the role of Pet Paradise CEO.
Terms of the transaction are not being disclosed.
"We are excited about the investment Crane Group has made in Pet Paradise," explained Acosta-Rua. "With their support, Pet Paradise will continue to grow and maintain the level of standards that we are all passionate about. This partnership is a win-win for our entire company, our employees and our customers."
About Crane Group: Founded by Robert S. Crane Sr. in 1947, Crane Group is a family-owned privately held company based in Columbus, Ohio. In addition to investments in private equity, real estate and equities/bonds, it also owns and manages a network of local, regional and global companies. The company's products and services are known for being innovative and high quality, and are market leaders in their respective categories. With the fourth generation in the family business, Crane Group celebrates and upholds the values, entrepreneurial spirit, passion and drive established by the first generation's leadership.
About Pet Paradise: Headquartered in Jacksonville, Florida with more than 600 employees, Pet Paradise was formed in 2002 and currently has 26 facilities in operation of which 12 are located throughout Florida, three are in Houston, three in the north Dallas area, three in the Charlotte area, two in Atlanta and one each in New Orleans, Phoenix and Albuquerque. Pet Paradise's mission is to create a safe, clean and fun environment for four-legged guests. The Pet Paradise facilities include spacious dog and cat boarding suites as well as day camp and grooming services. For more information about each resort, visit http://www.petparadise.com or visit our social media sites: Facebook, Instagram, Twitter, Vimeo and Pinterest.