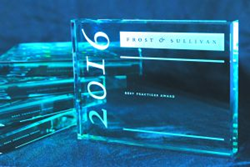 What sets One Network apart from conventional solutions is its multi-party community with a 'single version of the truth' network optimization, integrated planning and execution, and real-time end-to-end visibility and collaboration.
Dallas, TX (PRWEB) June 23, 2016
One Network Enterprises (ONE) http://www.onenetwork.com, the global provider of a secure, multi-party, PaaS network in the cloud, has been named the winner of the 2016 Frost & Sullivan Product Leadership Award for North American Supply Chain Management (SCM) For Public Sector and Defense. According to a 10-point scale, One Network rated a score of 9.5, with the nearest competitors at 8.0 and 7.5 respectively. The complete and complimentary report can be accessed here: http://bit.ly/28KXMwQ.
To determine winners, Frost & Sullivan evaluates organizations for Product and Business Impact. According to the report, customers who use One Network's Real Time Value Network™ can raise service levels, increase working capital, improve cash flow, and optimize operational efficiency – all while reducing IT costs, lowering inventory levels and minimizing impact from supply chain disruptions.
"What sets One Network apart from conventional solutions is its multi-party community with a 'single version of the truth' network optimization, integrated planning and execution, and real-time end-to-end visibility and collaboration," said Sankara Narayanan, Senior Analyst at Frost & Sullivan. "The Network is not only a commercial off-the-shelf (COTS) application but also a fit-to-purpose COTS for military organizations worldwide. This enables customers to adopt One Network's solution and then extend, modify, and adapt the solution as 'fit-to-purpose' to match the required business processes and workflows while retaining full vendor support. This is strikingly different from One Network's competitors' offerings, and we applaud them for both their technology prowess and the significant ROI they deliver to its members."
ONE is bringing The Network to government and military organizations in the U.S. and abroad to deliver cloud-based solutions via the PaaS model that have helped solve a wide variety of multi-party problems. As one example, cited by the report, ONE is managing $8B in inventory for the U.S. Marine Corps to ensure operational readiness while meeting the stringent budget requirements. In addition, this implementation was awarded the Department of Navy IT/IM Excellence award.
According to Mr. Narayanan, Frost & Sullivan determined that One Network's many-to-many, multi-hub, multi-party network is responsive, eliminates system lead time, minimizes physical lead time, and ensures optimization, planning, coordination, connectivity, and scalability. One Network's patented peer-to-peer technology creates a cloud-based federated network that synchronizes data across its multiple datacenters around the globe including those located behind the government's firewalls.
"Security and scalability in a multi-party, multi-tier environment is mission critical for our Public Sector and Defense partners. Earning the Department of Defense's business is a validation of our technology and architecture," said Greg Brady, Founder and CEO of One Network. "One Network is dedicated to advancing the power of the network and we are honored that Frost & Sullivan recognized our unique solutions."
Tweet this: News @onenetwork recognized by @Frost_Sullivan for its innovative multi-party cloud platform #PaaS #supplychain #defensetech #cloudcomputing
About Frost & Sullivan
Frost & Sullivan, the Growth Partnership Company, enables clients to accelerate growth and achieve best in class positions in growth, innovation and leadership. The company's Growth Partnership Service provides the CEO and the CEO's Growth Team with disciplined research and best-practice models to drive the generation, evaluation and implementation of powerful growth strategies. Frost & Sullivan leverages almost 50 years of experience in partnering with Global 1000 companies, emerging businesses and the investment community from 31 offices on six continents. To join our Growth Partnership, please visit http://www.frost.com.
About One Network Enterprises
One Network is bringing The Network to connect companies and their entire ecosystem to serve the customer. Founded in 2002, One Network offers patented solutions to multi-party business, including supply chain management. One Network's cloud platform, the Real Time Value Network ™, eliminates the traditional divide between planning and execution, provides visibility, and enables data to flow across the entire value chain of business partners – in real time. Additionally, One Network offers PaaS solutions and developers tools that enable organizations to design, build and run multi-party applications. Leading organizations from around the world, from nearly every industry have joined One Network, helping to transform industries from CPG, Healthcare, Automotive, Retail, Logistics, Public Sector, Aerospace and Defense. Headquartered in Dallas, One Network also has offices in China, Europe, and India. For more information, please visit http://www.onenetwork.com.