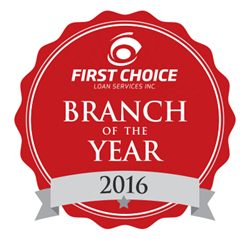 HOUSTON, TX (PRWEB) June 24, 2016
New Jersey-based residential mortgage lender First Choice Loan Services Inc., a wholly owned subsidiary of First Choice Bank, proudly announces that its branch located in Houston, Texas, and led by Chris Nooney was named the company's Branch of the Year for 2015.
Selected from 12 First Choice Loan Services locations, the Houston branch was chosen as Branch of the Year through the ways the team embodies the core values of First Choice Loan Services; these values are working with honesty and integrity, operating on a foundation of teamwork, respecting and honoring the worth of each individual, being proactively nimble, and providing service beyond belief.
The Houston branch includes Operations Manager Valarie Burk, five mortgage loan originators, two assistant mortgage loan originators and four loan processors. Additionally, the Houston office extends into Brownsville with Loan Originator Charles Whitlow and his team. Offering loan products including FHA, jumbo, renovation and VA Loans, the team members provide exceptional service to their real estate and builder partners and the homeowners and homebuyers of Houston and the surrounding communities.
"We are honored to be named the Branch of the Year in 2015 for First Choice. Our focus throughout the year is to provide our homebuyers, homeowners and business partners with service beyond belief and an outstanding mortgage experience. We do this while also concentrating on contributing to and deeply investing in the community in which we live," said Houston Branch Manager Chris Nooney. "This recognition from our company tells us that we are moving in the right direction and encourages us to continue along this path. During the rest of 2016, we look forward to finding new and exciting ways that we can show the homebuyers and homeowners of Houston we care about their home financing needs as well as the quality of the communities in which they live."
First Choice Loan Services President and Chief Executive Officer Norman T. Koenigsberg is proud of the work that the Houston office has done to build and strengthen the reputation of First Choice Loan Services in Texas.
"Since joining the company in 2012, the Houston branch has conducted its work in an exemplary fashion. Their loans are carefully and efficiently processed which means we are able to close them on time resulting in happy homebuyers and homeowners," said Koenigsberg. "On top of this, the energy and enthusiasm they contribute to First Choice enriches our culture and enhances the sense of family we hold throughout the entire organization."
Houston team members of the First Choice Loan Services office have played active roles in community charitable events such as the Houston G-Man Golf Classic and are active leaders of The GetTogether which benefits ministries including A 2nd Cup, Christ Clinic, Cornerstone Family Ministries, Generation One, Gracewood, Mission Centers of Houston, Mission of Yahweh, Nehemiah Center, Forge for Families, Source for Women, and Workfaith Connection.
This is the second year for First Choice Loan Services to bestow this honor and the first time it has been awarded to the Houston office.
About First Choice Loan Services Inc.
Headquartered in East Brunswick, New Jersey, First Choice Loan Services Inc. is a wholly owned subsidiary of First Choice Bank. Founded in 2009, the company is licensed to originate and close residential mortgage loans nationwide, excluding Arkansas. With 12 locations across 6 states and over 500 employees, First Choice Loan Services Inc. offers FHA and VA programs, Jumbo loans, fixed and adjustable rate loans, and refinancing and renovation programs. First Choice Loan Services Inc. is an Equal Housing Lender, NMLS #210764. Licensed by the New Jersey Department of Banking and Insurance. AZ BK# 0918586. To learn more about First Choice, visit https://fcloans.com/.