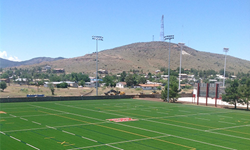 This is a great step forward by the University. As an alumnus, I'm proud to see them move forward.
Austin, TX (PRWEB) June 23, 2016
Sul Ross State University partnered with Hellas to begin major sports construction.
The Multipurpose Intramural Sports Facility was the first project on the list of athletic improvements. The new Matrix® Turf with Realfill infill, the field is marked for multiple activities including 7x7 football, ultimate Frisbee, softball, baseball, and soccer.
The previous, natural-grass intramural field at Sul Ross was the designated practice facility for the Lobo football team. Lobos football players have expressed that near the end of the football season, the practice field would be bare, and the soil's natural rock-filled base would be exposed. Hellas' synthetic turf installation will provide a predictable, consistent, low-maintenance surface for the athletes to prepare for season games.
"It has been a pleasure working with Hellas Construction on these two fields. The quality and professionalism has been exceptional, and we fully expect that this project will be a game changer for athletes for years to come," said Dr. Bill Kibler, President. "We are thankful for this partnership with Hellas."
"This is a great step forward by the University. As an alumnus, I'm proud to see them move forward," said Jim Loerwald, former Sul Ross State University football player and Business Development Manager at Hellas. Loerwald is one of the many Sul Ross alumni to reach out in support of the athletic facility upgrades, believing that it will give athletes a boost up the ladder of the conference.
In addition to the playing field, the Design/Build project includes fencing, entrance gates, and lighting, providing a safe, well-lit playing field for 24/7-student access.
The career of Lobos football players will be further supported by a new turf installation on the game surface at Jackson Field. Matrix Turf with Realfill infill will span the game field, with custom-colored end zones and 50-yard line markings representing Lobos pride. The intramural field, football field, and practice area combined cover more than 240,000 sq. ft. of Matrix Turf.
"It has been a great experience working on Sul Ross State University's Lobo Stadium and Intramural Fields," said Hellas Design Director Tianna Flores. "We have enjoyed working with President Dr. William "Bill" Kibler, Associate VP Jim Clouse, and everyone involved in this project. It has been a great process and we're excited to know that the Lobos will begin the school year playing on our Matrix Turf artificial turf surfaces. We hope to continue our great partnership with Sul Ross State University."
The project will be finished in mid-July, in time for the Lobos 2016 home opener vs. Arizona Christian University.
"The upgrades to the intramural and football facilities will not only provide an improved extra-curricular experience for current students and athletes, but the additions will be a draw for future athletic recruits to Sul Ross State University," said Reed Seaton, Hellas Construction President.
About Hellas Construction
Headquartered in Austin, TX, Hellas Construction, Inc. is one of the largest sports construction contractors in the United States. While specializing in the general construction of sports facilities and synthetic surfaces, Hellas also champions innovative artificial turf manufacturing, base construction, field, track and tennis planning, installation and maintenance. To learn more about Hellas Construction, visit hellasconstruction.com.
About Sul Ross State University
A public university located in Alpine, TX., Sul Ross State University was founded in 1917 and was made a university in 1969. The athletic teams, Lobos, are in the NCAA D III, and are members of the American Southwest Conference. The campus has approximately 2,000 students enrolled. To learn more about Sul Ross State University, please visit http://www.sulross.edu.
About Matrix Turf
Consisting of two different blade sizes, fiber colors mimicking a natural-grass field, less infill, and more fibers – this tested and proven artificial turf is the top of the line for sports facilities.