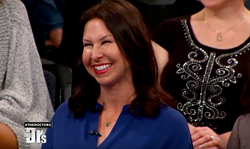 Newport Beach, CA. (PRWEB) June 24, 2016
Newport Beach plastic surgeon, Dr. Larry S. Nichter, has been gaining national exposure for his contribution in the field of plastic surgery and his modern day approach to treating his patients. He has received awards for Top Doctor, Best Doctor, Super Doctor, Real Self 100, Patient's Choice, Compassionate Doctor and Yelp. Dr. Nichter and one of his patients were featured in a Time Magazine article titled Nip.Tuck. Or Else. written by Joel Stein and another patient was featured on the popular talk show, The Doctors.
"I have been practicing for over 25 years now. It is gratifying to be recognized for the contributions I have made over the years, as well as have my patients selected to share their stories to the world," Dr. Nichter.
To learn more about Dr. Larry S.Nichter, please visit:
http://www.pacificcenterplasticsurgery.com
Dr. Nichter's patient Meredith was selected to be on the hit talk show The Doctors to discuss her breast augmentation result using the new Ideal Implant. Dr. Nichter was an FDA investigator for the Ideal Implant, which received FDA approval in 2015, and he is now a spokesperson for the company. In a Time Magazine article titled Nip.Tuck. Or Else., Dr. Nichter's patient Rosemary was featured to provide an example as to why more and more people are turning to elective procedures than ever before. In her case, she recently had a baby and some people thought she was her grandmother, not her mother. This set her on a quest to have a facelift to look more youthful. During her research she found out about Dr. Nichter and his widely popular LiteLift® procedure he developed as an alternative to the more extreme traditional facelift. The article documents her journey from beginning to end. Lastly, another patient of Dr. Nichter was asked by the American Society of Plastic Surgeons to share her tummy tuck story in a video they produced.
About Dr. Nichter and Pacific Center for Plastic Surgery:
Pacific Center for Plastic Surgery, located in Newport Beach, California is headed by Dr. Larry Nichter and Dr. Jed Horowitz, two of Orange County's word-class plastic surgeons. Dr. Nichter has over 25 years of experience specializing in cosmetic surgical procedures such as the facelift, eyelid lift, temple/brow lift, chin augmentation, fat transfer, breast augmentation, breast lift, breast reduction, breast reconstruction, mommy makeover, and revision surgery. Dr. Nichter is widely known for his exclusive LiteLift® modified facelift, which has become a popular alternative for those seeking facial rejuvenation which yields natural results with less downtime and fewer risks. Dr. Nichter is board-certified by the American Board of Plastic Surgery, and belongs to the the American Society of Plastic Surgeons and The American Society for Aesthetic Plastic Surgery, the most exclusive plastic surgery societies in the United States. Dr. Nichter has received numerous awards over the years for his surgical expertise and patient care.