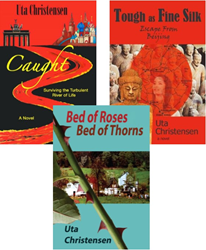 "We are proud to be her publisher. Uta Christensen's books are not only fascinating reads, but describe other times and places with stunning insight." - Robert Fletcher, CEO of SBPRA
(PRWEB) July 12, 2016
Praise for Uta Christensen's books is overwhelming. Her three latest novels are "Caught: Surviving the Turbulent River of Life," "Tough as Fine Silk: Escape from Beijing," and "Bed of Roses, Bed of Thorns." Her works of historical fiction are formed by her own family's background, love of travel, and a desire to explore the human spirit when human will is tested the most.
"We are proud to be her publisher. Uta Christensen's books are not only fascinating reads, but describe other times and places with stunning insight." – Robert Fletcher, CEO of Strategic Book Publishing and Rights Agency.
Christensen's first book was her father's memoir, who was a German soldier imprisoned in a Russian POW camp during WWII. Written in German, its themes are revisited to some extent in her later novel "Caught: Surviving the Turbulent River of Life," about a 16-year-old boy taken from his home and forced to become a soldier, and his coming of age in a brutal Russian labor camp. The novel shows that every German soldier wasn't a Nazi, and that from a time of darkness and despair, can come compassion and hope.
Many years later, Janos is a successful business executive in Germany and he looks back at his horrific wartime experiences. Taken by force by the Nazis from his German family, the 16-year-old Janos is tossed into the last-gasp efforts of WWII. His years-long incarceration takes him to places of darkness, where he lives through a near-death experience and survives physical and emotional starvation in hard labor camps. While many around him perish, Janos eventually finds healing, mentoring, and even love.
Watch the video at: https://www.youtube.com/watch?v=tmt46mom_g0&feature=youtu.be
"Uta Christensen, with striking prose and a poetic sensibility, brings the darker chapters of history to life in such a way that one is instantly captivated by a concurrent horror and pity, a sense of tragedy, but too a catharsis in overcoming, in human resilience and beauty itself. A truly breathtaking novel, 'Caught' is a tour de force of literary perfection; poignant, unremitting, and painfully real, this book is essential reading for all those willing to face hard truths – and grow from them." – Charles Asher, Phi Beta Kappa 5-star review
"From reading her brief biography, I learned that Uta Christensen is herself German and that she had family involved in the war. While the novel stands completely on its own, I believe this lends an immediacy to the work that can be felt on every page. It is almost confessional, as if the author (like the main character) is wrestling with a great burden and finding, in the end, simply the beauty and courage of the human spirit – beyond history and politics. Uta Christensen manages this perfectly. Her prose is haunting, the narrative compelling, and the message unforgettable. 'Caught' is a work of real substance and is not to be missed." – Erica Lund, Phi Beta Kappa 5-star review
Two lovers flee for their lives on an exhilarating journey through China in the suspense novel "Tough as Fine Silk: Escape from Beijing." This alluring tale of love and betrayal begins when Michael Sorensen, a Californian working as an engineer in Beijing, meets a beautiful Chinese woman, Li Juan, at China's Great Wall. The star performer at a local night club, she leaves the club to spend more time with Michael. After Michael is nearly killed by a hit-and-run driver, Li Juan fears that her former bosses may be responsible.
The couple flees Beijing on a train that takes them through historical China. Will they be able to escape?
"Uta Christensen did it again! With 'Tough as Fine Silk: Escape from Beijing,' she wrote a most fascinating novel, so different from her other books. What impressed me first is her incredible knowledge of China. I learned so much about that part of the world – the historical, cultural, and political aspects – through her wonderful and detailed expositions during that long train ride. I wondered whether she followed that route herself when she visited China." – Gisela Juengling, asst. professor, University of California
"The novel 'Tough as Fine Silk: Escape from Beijing' by Uta Christensen takes the reader on an amazing journey through a passionate love story and, at the same time, on an adventure through China's ancient historical sites and recent historical events … The story is a superb mix of East and West, of seeming openness of the two lovers with each other, but there is always a bit of doubt and mystery in the background – of carefulness and carelessness, of spiritual, intellectual and material thoughts. And the novel's love scenes are tantalizing." – Hedi Roethel, artist
WWII and family are touched upon in "Bed of Roses, Bed of Thorns," the story of three generations of women, spanning both world wars in Germany, and centered on a young girl, raised by her mother and grandmother, who yearns for her absent soldier father. But upon his return, she finds herself at odds with the war he was part of and his inability to deal with it.
The riveting novel also explores the emotional boundaries of family dynamics, as well as the strength of the women bearing the brunt of tragedy during wartime.
Ursula Meister is a girl in devastated Germany coming of age during World War II. She grows up during her formative years without her father. As men died by the millions, women are left to cope with the hardships and devastation of war, with broken lives and families torn asunder.
"What a rich many-faceted story of a bygone era it is, a revisiting of the German culture of the first half of the 20th century. While two horrendous wars were unfolding – WWI and WWII – families tried to cope with losing their loved ones, being uprooted, experiencing hardships and depravations, witnessing their cities being destroyed and eventually welcoming their conquerors … Simply, but masterfully told … I loved every bit of it." – Norman Edelen, author
"A tour de force of well-observed inspirational literature … a highly recommended read." – Taran Dhillon, author
"Against the backdrop of two world wars that shape the face of Germany, we see how three generations of women are impacted psychologically by their loves, losses, and joys. While all of the characters are vividly delineated, it is Ursula whose growth to young womanhood holds our interest. She must cope initially with her mother's tyranny and the stresses of life in a country at war. Then, as she matures, she faces the challenge of defining herself and discovering her true beliefs and worth, which enable her finally to assert her freedom and choose independence. Altogether, 'Bed of Roses Bed of Thorns' is a splendid achievement." – Geoff Aggeler, author of "The Firewatcher" and "Confessions of Johnny Ringo"
"'Bed of Roses, Bed of Thorns' is a tour de force of well-observed, inspirational literature. Starting from the bleak and bomb-damaged foundations of naturalism, it turns back to a more romantic notion of free will, but one that must be attained through hardship and toil. The power of storytelling and perspective to bring about change is central to this book, and in relating its compelling tale, it touches the reader with the truth of that assertion. Highly recommended." – Taran Hans, 5-star review
"Her characters are strong and believable, and the setting she places them in is described so vividly that one can easily imagine being there with them in the mountains, forests, and cities of Germany in the 1940s and 1950s. The story, told from the perspective of a young girl, transcends the physical locations to explain the yearning to understand that Ulla has throughout her life, and the path that yearning places her on. The elements of the story are beautifully crafted, well woven, and compelling for any reader." – William Speir, 5-star reviewer
CAUGHT: SURVIVING THE TURBULENT RIVER OF LIFE (ISBN: 978-1-63135-545-5) is available for $18.95 softcover and (Kindle ISBN: 978-1-63135-820-3, ePub ISBN: 978-1-63135-819-7) $7.99 e-Book.
TOUGH AS FINE SILK: ESCAPE FROM BEIJING (ISBN: 978-1-61897-088-6) is available for $16.95 softcover and (ISBN: 978-1-62212-078-9) for $9.99 e-Book.
BED OF ROSES, BED OF THORNS (ISBN: 978-1-60860-871-3) is available for $16.95 softcover (ISBN: 978-1-60976-493-7) for $9.99 e-Book.
Each can be ordered through the publisher's website: http://sbpra.com/UtaChristensen or at http://www.amazon.com or http://search.barnesandnoble.com.
About the Author: Born in Germany, Uta Christensen spent years in Ireland, New Zealand, and Australia before settling in California. Holding a bachelor of arts degree in English and German literature, she taught English at a community college and was an administrative analyst at the University of California. Her first book, her father's memoir of survival in Russian POW camps, was published in Germany. Her three novels were published in the USA. The author lives half the year in California and the other half in Australia.
WHOLESALERS: This book is distributed by Ingram Books and other wholesale distributors. Contact your representative with the ISBN for purchase. Wholesale purchase for retailers, universities, libraries, and other organizations is also available through the publisher; please email bookorder(at)sbpra(dot)net.