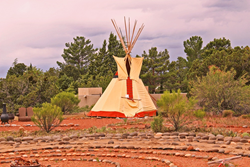 "There are moments when troubles enter our lives and we can do nothing to avoid them. But they are there for a reason. Only when we have overcome them will we understand why they were there" — Paulop Coelho
Sedona, AZ (PRWEB) June 24, 2016
SpiritQuest Sedona Retreats, located in Arizona has re-located to 75 Kallof Place, Suite 102 in the heart of West Sedona, surrounded by famous vortex sites: Cathedral Rock, Airport Mesa, and Boynton Canyon. The new retreat center is ideally-situated within walking distance from partner properties – the Lodge at Sedona as well as the Sedona Rouge, both popular accommodations for SpiritQuest clients. The Medicine Wheel, Labyrinth and Tipi are also on the nearby Lodge property, about 100 yards from the new SpiritQuest Retreat Center location. This new retreat center provides a beautiful courtyard area for guests to relax and commune before and between sessions, or have a bite to eat. Larger, more-plentiful session rooms provide a healing, meditative space for personal retreat, as well as group retreat sound healings, meditations, and private intensive add-on sessions. Photos and information about the new center are on the website – About Us page.
The personal Spiritual Retreat is a non-sectarian self-awareness experience helping participants reconnect, find peace, joy, serenity and purpose. Participants may feel they have lost their connection to Spirit, or simply feel out of touch with themselves, depressed or empty. This personal-growth retreat includes sessions such as: Spiritual Awakening, Vortex Experience, Breaking Old Belief Patterns, and Third Eye Expansion. Sessions may take place in the Zen Room with soothing vibrational energy. This room has an array of Himalayan salt lamps to help bring emotional balance. Salt lamps generate negative ions, which energize and uplift. Emotional healing sessions may utilize the Healing Room filled with majestic color bottles. Color and light bring physical, emotional, and spiritual healing. SpiritQuest Practitioners help clients understand how color assists the body in its natural ability to balance itself. Color is a language of the soul, exampled by inspired or meditative paintings influencing people's mood and emotions. All colors have symbolic meaning recognized by the subconscious, influencing Mind, Body and Spirit. Some of the spiritual healing sessions offered are: Color Essence for Healing, Inner Child Healing, Emotional Clearing, DNA Light Body Activation, and many more. The personal customized Spiritual Retreat is ideal for those wanting to deepen their spiritual life and connection, and is available year-round.
SpiritQuest specializes in Couples Retreats in beautiful Sedona, with skillful guidance for couples to develop self-awareness, deepen connection with self and each other, establish healthy boundaries, improve communication skills, deepen intimacy, and have fun while developing relationship skills. A private couples retreat may include a couple's massage or other body work sessions, as well as energy work in the Serenity Room with a beautiful massage table, soft lighting, relaxing music, and sacred essential oils. Massage clears the energy field, repairs and re-balances, and optimizes the body for healing. Some sessions include the amazing Bio mat filled with amethyst crystals. Amethyst crystals transform lower frequencies to higher frequencies, balances and stabilizes energies, calms emotions and stress, calms the mind, aids sleep, and helps the nervous system. The Transformation Room includes crystal bowls, drums, Tibetan bowls and amazing gongs. This room is available for deep meditation, spiritual depth, connecting participants to self, utilizing sound healing tools. Sound is an ancient, gentle, and transformative healing method. Sound Therapy works on the principle of resonance, which is the vibrational frequency with which each aspect, including the body, chakras and layers of the aura, most naturally want to vibrate. Vibration of sound alleviates energy blockages in the chakras with minimal effort. Couples may experience a Sound Meditation and Healing together in the Transformation Room on their private Couple Retreat with SpiritQuest. Couple's retreats are available seven days a week throughout the year.
SpiritQuest has a number of Group Retreats – two upcoming in July and August: July 15-17 Healing Crystal retreat with a focus on sacred geometry and gridwork, August 26-28 Shamanic retreat bringing in earth and animal wisdom. Individuals may also add private one-on-one sessions in addition to the group retreat activities. People interested in participating in a SpiritQuest group retreat are encouraged to explore the website then call 928-282-2509 to register.