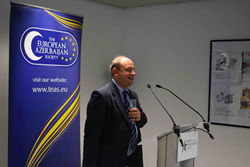 I will be your man in Baku. You can call, mail or visit me for the next four years.
Brussels, Belgium (PRWEB UK) 23 June 2016
Around 30 Belgian industrialists and representatives of EU and Benelux institutions flocked to the Press Club Brussels Europe – at the heart of the EU diplomatic community – on 22 June to meet H.E. Bert Schoofs, Belgian Ambassador–Designate to Azerbaijan, Georgia and Turkmenistan, who takes up his position on 1 August. The event was organised by the Benelux office of The European Azerbaijan Society (TEAS).
Delegates included Herman De Croo, Belgian Minister of State and the longest-serving Belgian MP; Amanda Paul, Policy Analyst, European Policy Centre; and Peter Vanvelthoven, Mayor of the City of Lommel, alongside representatives of ArcelorMittal, which is currently supplying 310,000 tonnes of X70 steel for the Trans-Anatolian Pipeline (TAP), a major artery of the $45bn Southern Energy Corridor that will bring Azerbaijani Caspian Gas to Europe from 2020; the Port of Antwerp, which is providing expert guidance to the Baku International Sea Port Project, following the signing of a Memorandum of Understanding; and Wallonia Export and Investment (AWEX), which is collaborating with the Azerbaijan Export and Promotion Foundation (AZPROMO) to assist with developing the non-oil economy. There were also representatives of such diverse organisations as the Federation of Belgian Chambers, the German Marshal Fund of the US and Flanders Investment and Trade.
Marc Verwilghen, Director, TEAS Benelux, commented: "Today's event is in honour of the designation of H.E. Bert Schoofs. One of the objectives of TEAS is to foster good relations between Azerbaijan and both European and Benelux institutions. One of our sectors is in economics, where we invite Azerbaijani companies to work together with their European and Benelux counterparts to make business. Azerbaijan is a country with a great deal of potential.
"Azerbaijan is a pivotal country in a prime geopolitical location that is an intersection of multiple crossroads between Europe and Asia; and Russia and the Middle-East. It lies between Russia, Iran and Turkey, all of which are playing key roles in the contemporary political world. It also lies on the burgeoning East–West Corridor that connects Europe to Central Asia. Furthermore, it plays a crucial role in the Western access to the heart of the Eurasian continent, whether in matters of energy, transport, trade, business or military purposes, the latter due to its participation in NATO campaigns.
"Azerbaijan has also proven that it is an excellent organiser of events on an international level, including the Eurovision Song Contest, the inaugural European Games and – last Sunday – the Formula 1 Grand Prix of Europe. Europe is discovering the new Silk Road, and Azerbaijan is at the epicentre of that."
A career diplomat, Ambassador Schoofs joined the Belgian Ministry of Foreign Affairs in 2001. He has since been posted in Vienna, Belgrade, New Delhi and Moscow, amongst other places. Looking forward to his new responsibilities, Ambassador Schoofs recalled: "I was fortunate to be in Azerbaijan in 2012, just before it hosted the Eurovision Song Contest. I discovered it to be a unique mix of cultures, and to be very proud of its own identity. It made a great impression on me and I am very pleased to go there. When people ask where I am being posted, I reply: 'Take a map and place Azerbaijan in the middle. See which countries surround it.'
"Azerbaijan is similar to Belgium. It is in the centre of a crossroads, and its people and government have an open-minded vision. I go as a Belgian and I am pleased to see so many people here representing Belgian companies and Chambers of Commerce.
"I will be your man in Baku. You can call, mail or visit me for the next four years. Anyone who has business, or wishes to have business, is welcome at my office in Baku."
The event concluded with networking and a lively question-and-answer session. Mr. de Croo asked about diversification of the Azerbaijani economy, and Mr. Schoofs indicated some of the areas in which Belgian expertise is and could be applied.
Mrs Paul asked about the Southern Energy Corridor, to which Ambassador Schoofs replied: "This Corridor is an extremely important element in the energy mix of Europe. Unlike many schemes, it is realistic; it is an excellent idea for maintaining European energy security, and will be an extremely important in the mid- to long-term. Azerbaijan is in the perfect location and this project has to be realised."