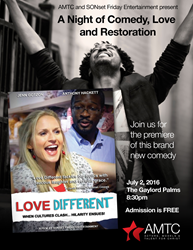 Gaylord Palms Orlando (PRWEB) June 22, 2016
Saturday, July 2nd, 8:30pm, Gaylord Palms Orlando - Actors Models and Talent for Christ (AMTC) will host a Stand With Orlando Red Carpet Premiere for the award-winning comedy "Love Different", a hilarious story that's been trending in the circuit bridging racial hatred and relational tensions through comedic scenarios filled with laughter and an uplifting plot allowing people to better understand each other and learn how to love different.
In the wake of recent events that have swept through the city of Orlando, AMTC hopes to bring a night of comedy, love and restoration to anyone suffering during this time of tragedy. "Love Different", is a movie fun for all ages. Meet and mingle with the stars of the premiere. Dress is stylish, jeans welcomed. Admission is free! Come enjoy a night of fun and entertainment!
Actors Models and Talent for Christ (AMTC) is a non-profit ministry dedicated to making good bolder in film, fashion, television and theatre educating performers how to use their talents to bring hope into a dark world. Actors Models and Talent for Christ (AMTC) bi-annual conference aptly named "SHINE", will be held June 28th-July 3rd at the Gaylord Palms. The film "Love Different" produced by SONset Friday Entertainment will be shown after the televised Talent Finale at the SHINE conference.
"Love Different" features the talent of over seventy AMTC performers playing various roles from supporting leads to featured background artists. The filmmaker Anthony Hackett was introduced to Actors Models and Talent for Christ (AMTC) after casting Jenn Gotzon (God's Country, Doonby) as his leading lady. Gotzon, known for playing President Nixon's daughter Tricia Nixon in Ron Howard's Oscar-Nominated film Frost/Nixon, serves as an AMTC Talent Consultant mentoring performers who desire to use their talent as a positive role model in media. All will be in attendance.
Orlando families of loved ones lost, friends and everyone are welcome to attend the Stand with Orlando Red Carpet Premiere of "Love Different". Please RSVP to AMTCmovies@gmail.com if you would like to attend. Film to be screened at 8:30pm at the Gaylord Palms Orlando Resort, located at 6000 W. Osceola Pkwy, Kissimmee, FL 34746. Meet and mingle with the stars of the film who are giving their time to Stand With Orlando in prayer.
For more info on Actors, Models & Talent for Christ (AMTC) and/or the movie "Love Different"; visit http://www.AMTCworld.org and http://www.LoveDifferentTheMovie.com.