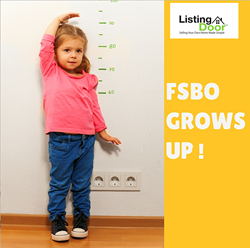 Thanks to some pretty dynamic technology and an ever-growing population of tech savvy and informed consumers, the time to challenge the status quo has arrived. FSBO is all grown up.
HOUSTON (PRWEB) June 23, 2016
ListingDoor founder Sissy Lappin has released a new blog titled, "With 92 percent of Consumers Searching Online for Their Next Home, FSBO Comes of Age." The blog is an analysis of the For Sale By Owner movement's rapid growth spurt in recent years, prompted by the development of powerful online technology and marketing tools that place home sale authority in the hands of homeowners who choose not to pay a real estate agent fee.
"Thanks to some pretty dynamic technology and an ever-growing population of tech savvy and informed consumers, the time to challenge the status quo has arrived," Lappin says. "FSBO is all grown up."
The floodgates have opened wide for DIY, no agent home sales in recent years, as consumer use of online real estate searches skyrocketed, reaching an all-time high of 92 percent in 2014 and crested to almost 60 percent mobile and tablet usage on weekends.
This rapid growth in online information gathering among home sellers and home buyers has major implications for agents, brokers, and real estate industry strategies moving forward.
According to RealtyTrac®, a comprehensive housing data source, more than 3 million existing single family home and condo sales were completed in the U.S. in 2015, with 38 percent of markets hit new all-time home price peaks and home sales volume reaching a nine-year high. The potential for this market boom to directly impact the value of online home listing, marketing, sales and search providers is monumental.
No branch of the industry has benefited more from the online tech movement than FSBO. According to Lappin, it was not only time to level the playing field for homeowners choosing to sell without the assistance of an agent, it has given homeowners a huge advantage.
For decades, agents had buyers and sellers convinced that they were incapable of understanding or managing a home sale without a Realtor®—a notion Lappin calls "absurd."
"The reality is, anyone can do it," Lappin says. "And statistically, FSBO home sales are completed faster and with less drama today than in years past, for the simple reason that both buyers and sellers have much more unfettered access to market information and tools."
The FSBO industry hasn't always been this transparent, but thanks to aggregate websites like Zillow and Trulia, everyone can access listing and pricing data online in the comfort of their own homes—a pastime that a growing number of home sellers and home buyers enjoy.
Here's the basic difference between the traditional real estate industry and independent sites like Zillow and Trulia: Realtor.com inputs listings to regional MLS systems, which are overseen by a board of local real estate brokers and not accessible to non-realtors. Sites like Zillow and Trulia aggregate their listing data from individual broker sites—in fact, many real estate firms listings automatically syndicate to Trulia and Zillow.
Trulia and Zillow also pull their data from other sources, which Realtor.com does not do. This unbridled leap to accessibility opens a world of opportunity to FSBO home sellers today, many of whom are first-timers.
Home sellers no longer need to depend on a realtor® to access pricing reports anymore, a huge coup for FSBO sellers. Sites like ListingDoor's FSBO website provide anyone with a pricing report that makes assessing their home's true market value simple. And thanks to independent listing sites, home sellers now have access to the "secret" home sales listings once only available to agents.
"Thanks to today's tools and technology, even the National Association of Realtors (NAR) admits that FSBO sellers are able to price their homes more accurately," Lappin says.
Powerful FSBO marketing tools are intuitive, professional, and user friendly. Even for those who have never sold a home before, ListingDoor's marketing tools are designed to be easy to use and understand. Step-by-step instructions give home sellers added advantages, and when one considers that a 6 percent agent commission on a $220,000 home is more than $13,000, the savings benefits add up.
"Now, consumers don't have to just 'pay up' because agents tell them they can't go it alone," Lappin says. "Technology sure gave ordinary home sellers an eye-opening lesson in 'can-do,' not to mention a much better return on their investment."
Thanks to today's technology, FSBO programs have become so automated sellers can usually price their homes and receive all their customized marketing materials in less than five days. And in today's FSBO market, negotiations take less time and create less drama than ever before, since both buyers and sellers have much better access to market information.
The NAR's 2015 Profile of Home Buyers and Sellers, displays facts and figures that prove FSBO sellers appear to be hitting their home pricing targets more consistently than licensed agents; home sellers are found to drop their sale prices only one time or less, 91 percent of the time, before selling. In contrast, real estate agents drop home sale prices one time or less, only 78 percent of the time.
Study results out of Stanford and Northwestern Universities also confirm that FSBO homes sell for more money—an average of 4-7 –percent higher when no agent was involved in the sale. When the agent commission savings is added in, that percentage increases.
Lappin says that FSBO is all about empowering homeowners with innovative options, powerful tools and proven strategies to help them not only succeed, but keep the agent fees in their own pockets.
"It's not just about leveling the playing field, it's about winning," Lappin says.
To learn more about ListingDoor's FSBO technology, the ListingDoor website, email
media(at)listingdoor(dot)com or call 713-922-0602.
About ListingDoor.com:
ListingDoor.com has paved the way for an entirely new FSBO experience with powerful, easy to use tools, so even those who have never sold a home can succeed. ListingDoor decided it was time to transform the FSBO experience and utilize the power of the web for homeowners to save the realtor's commission. Lappin's expert guidance on the interface and user experience has helped build an application consumers appreciate.
Founded in 2014 by husband and wife realtors Sissy and Mark Lappin, ListingDoor.com earned recognition from Forbes Magazine in December 2014 when it was named a top contender to become "The Next Uber" for real estate sales. Lappin's Book, "SIMPLE AND SOLD," achieved No.1 Bestseller status on Amazon.com.
ListingDoor.com aims to set new standards for the real estate industry by providing smart, cost-effective alternatives to traditional home sale strategies that allow homeowners to decide on the best approach for selling their homes.
About Sissy Lappin:
Veteran real estate broker, author, and For Sale by Owner (FSBO) champion Sissy Lappin introduced her "simple and sold" philosophy of real estate innovation to help homeowners master the art of selling their homes without a realtor. Her groundbreaking FSBO guidebook, "Simple and SOLD," first published in 2012, achieved #1 best seller status on Amazon.com with more than 15,800 copies downloaded in e-book form She earned her
claim to national fame with the publication of "Simple and SOLD."
Although FSBO is not new to the American real estate landscape, Lappin's "Simple and SOLD" guidebook breathes new life into the strategy that helps individual homeowners save tens of thousands of dollars in commissions and fees by selling their homes and sidestepping realtor commission fees.
###