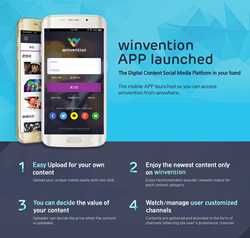 TiTAN's revolutionary patented TCI technology, transforms the DNA of digital data—creating the optimal marketplace for digital content where illegal downloads and uploads are rendered impossible.
Los Angeles, CA (PRWEB) June 23, 2016
TiTANplatform Corporation, a leading software platform development company in Korea, will premiere its new winvention content media player—featuring TCI (Titan Platform Content Identifier) proprietary technology for superior digital rights management—to the online video entertainment industry, for the first time in the U.S., at the 7th Annual VidCon conference, June 23-25, 2016, at the Anaheim Convention Center, Anaheim California. For conference registration and more information visit vidcon.com
winvention, the next generation content platform from TiTANplatform, launched in Korea in March 2016, and is scheduled for release to U.S. consumers later this year. The flagship product features an online media content platform, mobile app for Apple and Android, and a downloadable client-side winvention player for windows. All formats are optimized for TCI exclusive content viewing—providing superior digital rights management protection through Titan's proprietary innovative technology.
winvention provides sophisticated content creators a variety of social commerce opportunities including original content creation, channel curation, and monetization with the confidence and security of winvention's superior DRM technology. TiTAN's revolutionary patented TCI technology, transforms the DNA of digital data—creating the optimal marketplace for digital content where illegal downloads and uploads are rendered impossible. With winvention's' superior content-rights protection, users can profit from their original content and with MyChannel, users can create categories to monetize their favorite curated content.
"Although many existing platforms today may be user friendly, they have greatly underestimated the need to protect the rights of content creators" said CEO Young Yoon, emphasizing that "through our patented TCI technology, we are able to create a one-of-a-kind e-commerce ecosystem where creators can share their favorite content with safety and confidence."
Titan Studios International, the Los Angeles-based content development division of TiTANplatform Corporation, will showcase the winvention online media content player along with demonstrations of immersive 360/VR content—currently in development for the winvention platform at Booth #1110 in the VidCon 2016 Expo Hall, Thursday through Saturday from 8:00 a.m. to 6:00 p.m.
TiTAN Studios International CEO, Kate McCallum, adds "And now with a dedicated content development team based right here in Hollywood, we can deliver more that just streaming video, at our state-of-the-art dome studio, we're creating content for the future of entertainment technology—developing fully immersive 360-degree and VR content exclusively for the winvention platform."
Building upon the successful beta launch of winvention in Korea earlier this year, TiTAN Platform Corporation CEO Young Yoon and Director YoungKoo Lee, head of Business Innovation Strategy, will lead a delegation of executive management from Seoul, Korea together with LA-based Titan Studio's CEO, Kate McCallum, to present the winvention content platform to an estimated 21,000 fans, creators, and industry leaders in the online video entertainment industry, expected to attend VidCon 2016 over 3 days. The delegation will host an East Meets West inspired hospitality suite at the Anaheim Hilton Hotel Sunset Room for VidCon registered media influencers and industry executives, Thursday through Saturday from 10:00 a.m. to 8:00 p.m. and a welcome reception meet & greet on Thursday from 3:00 p.m. to 7:00 p.m. RSVP to Celia(at)titanstudios(dot)com to attend. TiTAN Executive team is available for interviews upon request.
About TiTANplatform Corporation: TiTANplatform Corporation is a global technology business from the heart of Seoul, Korea, at the intersection of creativity and technology. We are the new global marketplace, where ideas and art meet commerce and communication, all supported by breakthrough patented copyright protection. For more information visit TiTANplatform.com
About Titan Studios International: Titan Studios International and Titan U.S. Corporation is a wholly owned subsidiary of TiTANplatform Corporation. With offices in Los Angeles and Seoul, Korea, Titan Studios International develops and produces original content for the international winvention platform. For more information visit TiTANstudios.com
About winvention: Dreams meet Reality… Inspired, innovative and intelligent, winvention is the new global content distribution platform for today's most creative influencers in online media. Utilizing proprietary technology for superior digital rights management with the means to monetize content and curate channels, winvention.com provides a super-sophisticated secure content playground, soon to be launched in the U.S. by Titan Platform Corporation, Seoul, Korea. For more information visit winvention.com
About VidCon: VidCon is the world's largest conference for and about online video. Held each summer in Anaheim, California, VidCon assembles fans, veteran and amateur creators, working professionals, and industry thought-leaders for three days of celebration, introspection, and discussion. Hank and John Green founded VidCon in 2010, and total attendance in 2015 was 21,000. For the fourth year in a row, YouTube has signed on as the title sponsor.