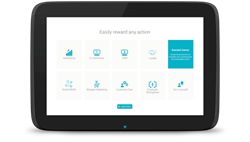 Palo Alto, California (PRWEB) June 28, 2016
UP Group's distribution deal includes a $3M investment in Ifeelgoods latest financing round and an exclusive distribution agreement in the Employee Benefits and rewards industry in the French Market. Ifeelgoods platform will help to enhance UP Group products and solutions and offer to its clients the largest international digital rewards catalog as well as a unique tool to build campaigns within a few hours.
"We are thrilled to collaborate with Ifeelgoods, which technology is used by the largest brands globally. This deal illustrates our ability to innovate by collaborating with start ups having a clear step ahead of the market and to bring our experience to introduce a full scale offer in the Employee Benefits, Loyalty and rewards industry," Noted Nathalie Costigliola, Director of the Employee Benefits and rewards department at Group UP France.
Ifeelgoods has developed a digital promotion platform allowing brands to create seamlessly promotional campaigns in multiple industries with just a few clicks : Shopper Marketing, Loyalty, Employee Benefits, Engagement, ... 100+ of the largest global brands have been leveraging Ifeelgoods platform, such as McDonalds, L'Oreal, Samsung, Coca-Cola … and such in over 30 countries, taping into a Catalog that gathers hundred of thousand rewards.
"Following our partnership with the Japanese conglomerate ITOCHU we are thrilled to increase our distribution with the help of Group Up by leveraging their sales force and client portfolio. Besides a natural fit between our offerings, we have been seduced by the core value of Up Group which is a major player in the Social innovation," comments Dimitri Ducourtieux, co-founder and VP Europe at Ifeelgoods.
About Ifeelgoods
Ifeelgoods' turnkey platform enables companies to set up, launch and monitor rewards promotions and programs within minutes. It helps companies achieve multiple business objectives: customer acquisition, retention, engagement, employee motivation and more. End-users can directly receive rewards from 100+ integrated apps including Mailchimp, Salesforce, SurveyMonkey, Paypal and Zendesk. Gifts delivered come from Ifeelgoods' 100,000+ rewards catalog with content that ranges from movies, songs, games, apps, newspaper subscriptions, and gift cards.
The Ifeelgoods platform has delivered 30+ million rewards across industries worldwide and has powered campaigns for 300 leading brands such as Walmart, GAP and L'Oréal.
Learn more: http://www.ifeelgoods.com/
Contact:
Dimitri Ducourtieux, co-founder and VP Europe, Ifeelgoods dimitri(at)ifeelgoods(dot)com
+33 6 17 77 01 54
About Up Group (formerly Groupe Chèque Déjeuner)
Up Group is an international, independent group that belongs to its employees. It sells unbanked products and services (checks, cards, mobile applications, web applications, etc.) to facilitate access to food, culture, leisure, education, help in the home, social aid, but also to support companies in managing their business expenses or developing incentive and loyalty programs. The group is present in the daily lives of over 21,3 million people in 17 countries. Up group has 2 685 employees and realized in 2015 an issuing volume of EUR 6.6 billion (numbers updated on 31/12/2015). http://www.up-group.coop
Press contacts:
Elise NACCARATO / 01 41 85 05 63 / enaccarato(at)up-group(dot)coop
Hélène CHAULIN / 01 41 85 08 60 / hchaulin(at)up-group(dot)coop
Alexandra LEONI / 01 58 22 25 97 / a.leoni(at)auvray-associes(dot)com