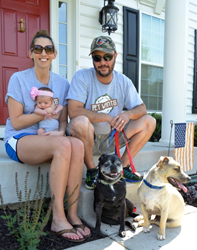 We love animals and wish we could help every single one. Since we can't rescue them all, we are hoping, with Pet Wants, we can help in a different way.
Towson, MD (PRWEB) June 23, 2016
Devin and Lauren Miller has always loved animals. Now they're looking forward to having the opportunity to positively impact the lives of more pets and families thanks to their new business, Pet Wants of Baltimore County.
Pet Wants' carefully developed proprietary pet food is slow-cooked with fresh, all-natural ingredients. The company's distributor makes the dog and cat food in small batches once per month so every kibble is guaranteed to be fresh and packed with nutrition. Pet Wants of Baltimore County is a franchise of the Pet Wants Franchising Systems and the mobile service delivers to North and Northwest Baltimore County, including Hunt Valley, Reisterstown, Owings Mills, Timonium, Towson, Pikesville and the surrounding areas.
"Pet Wants is different because it's high-quality, fresh and delivered. I know what's in Pet Wants and I know what's in other top brand foods and you'd be shocked at what some companies are feeding your pets. I trust the Pet Wants product and I'm proud to put my name behind it," Devin said. "Pet Wants is not about bringing you a bag of food. It's about building a relationship and being available whenever you have a question or concern. With Pet Wants, you're working with me, not just a brand at a pet food store or the grocery."
In addition to being made fresh monthly, Pet Wants only sources the best salmon, chicken, lamb, brown rice and other ingredients available. There's no sugar added, no fillers and no animal by-products. And, since Pet Wants never uses corn, wheat, soy or dyes, the food is a great fit for pets with allergies.
Prior to opening Pet Wants, Devin spent a decade in the construction, environmental and recycling industries. Lauren works for the University of Maryland Medical Center, where she's involved in clinical research trials for medicine and medical procedures. The couple also just celebrated the arrival of their first child – Hannah Maeve Miller.
"I always wanted to open my own business, but I never saw anything that really spoke to me. Pet Wants allows me to work with local families and their pets while supporting my family."
Devin and Lauren have always been passionate about pets. Devin grew up with a mutt named Mugsy, who his mom found in a trash can, as well as a variety of rescue cats. While they were dating in college, Lauren adopted a Pomeranian – Gizmo – who they smuggled in and out of the dorm to take on walks and then the two got a Boston terrior/pug mix named Bugsy to keep Gizmo company. When Gizmo passed away in 2012, they adopted a sad little Red Nose Pitbull named Grace, but after a life on the streets, a broken leg and a skin condition that wouldn't heal, Grace only lived for six weeks after they brought her home.
"After that, we decided to adopt an 8-week-old pitbull mix from an organization that rescues dogs from high kill shelters. Boone is a blond, smaller than usual pit mix who we later learned is mainly Louisiana Catahoula Leopard dog mixed with Rat Terrier and Pit. He's a little much for our middle-aged pug, so we've taken to fostering other pitbulls while they wait for their forever homes," Devin said.
"We went through a lot after the passing of two dogs in two months – we had one for 12 years and one for only six weeks and we wouldn't take it back for a second. We love animals and wish we could help every single one. Since we can't rescue them all, we are hoping, with Pet Wants, we can help in a different way," Devin added.
Pet Wants originally launched in Cincinnati in 2010. Owned by Michele Hobbs, the business was built to provide proprietary crafted, fresh, slow-cooked, all-natural pet food delivered to customers through a retail store and a convenient home-delivery service. Hobbs, now the company founder, turned the business into a franchise in 2015 with the help of Franchise Funding Group, an investment and franchise-development company designed to help entrepreneurs scale their companies nationally as franchise systems.
To order Pet Wants food for your favorite companion or to learn about the company, call (443)564-8986, email DMiller(at)PetWants(dot)com or visit http://www.petwantsbaltimorecounty.com/.
About Pet Wants: Pet Wants was started by Michele Hobbs out of love for her pets and frustration. Veterinarians were unable to help relieve her dog's painful skin allergies. After doing much research, Michele discovered the national dog food brand she trusted was not fresh, not all natural, and lacked sufficient nutrition...and when pet food sits in warehouses and store shelves for months and months… it loses even more nutritional value. She was committed to developing a better solution for all dogs and cats. Their food is exclusively crafted… fresh, healthy, slow-cooked and all natural with no sugar added, no fillers and no animal by-products. They source only the best salmon, chicken, lamb, brown rice, and other ingredients. Fresh ingredients make for better food… and better health for pets. And since they never use corn, wheat, soy or dyes, the common pet health problems associated with these ingredients are no longer worries. Their fresh food is conveniently delivered to the customer within weeks of production, not months. Roughly half of Pet Wants products are sold through their store and half through their convenient, home-delivery program. You can learn more at http://www.PetWants.com.