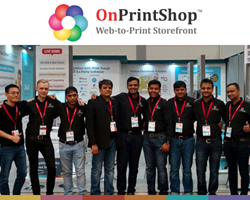 OnPrintShop eliminates the need of using multiple w2p solutions by providing flexibility to customers to integrate necessary features & customizations or migrate. It is the one-stop solution that has everything needed in the emerging market
Ahmedabad, India (PRWEB) June 24, 2016
Drupa 2016 – Radixweb OnPrintShop Key Highlights
Twice declared winner of "Social Media Champion" Trophy among 1800+ exhibitors
Drupa Daily featured the launch of most advanced B2B Web-to-Print solutions and its flexibility to be customized to manage large corporates and franchisee networks.
Showcased New V5.2 – Photobook, Multistore, Trade Printer, Book Module, Wide format solutions, Integrations – MIS/Accounting/Workflow/ERP/Marketing Tools.
Existing customers from North America, Europe, UK, Asia, China especially came down to appreciate its personalized support and consistent upgrades.
Show visitors appreciated consultative approach as the team was understanding its business, shared insights and strategies to set up print order management solutions to grow and reduce cost.
Ten confirmed bookings during show for Start-up & Platinum Pro, Advance B2B & Custom License.
New launch v5.2 got the maximum attention from visitors due to new marketing and productivity tools & lots more.
OnPrintShop, leading web-to-print solutions provider, announced its resounding success at drupa 2016. With the theme of 'Simplify and Transform', the company created immense numbers. Over a course of the eleven-day event, OnPrintShop won two times 'Social Media Champ' award, launched advanced B2B web-to-print solutions and more. Major focus of the team was helping PSP's grow understanding print business and provide personalized demos, which helped the company in sealing the number of deals on the spot by enabling quick decisions and developing clarity, trust and confidence among the drupa 2016 visitors. More than 2500 visitors received well-researched insights and strategies for successful implementation of the w2p solution throughout the event at its booth.
Working with the print industry since 2008, the company understands that PSPs have been investing in multiple w2p solutions to meet unique needs of large corporates and franchisee networks. To solve this challenges and the need for having an unified solution to integrate multiple technologies, OnPrintShop successfully launched advanced B2B module which has flexibility to customize, integrate third party tools, depending on business needs along with the features like corporate branded stores, advanced reports, rule-based template, advanced approval process, profiling, kit products and lot more. It received an overwhelming response from the visitor who were struggling with multiple solutions for its w2p needs.
The launch of v5.2 was a major success as it opened up many opportunities for PSPs and new ways in which OnPrintShop can help with the business expansion. The solution features--like wide format calculator to manage multiple product and pricing structure, capability of managing physical stores along with the online store, upgraded corporate module to manage multiple departments and rule-based approval and complete order management solution helping PSPs to drive greater ROI--were highly appreciated by drupa 2016 visitors at the OnPrintShop booth.
One of the visitors remarked "OnPrintShop eliminates the need of using multiple w2p solutions by providing flexibility to the customers to integrate the necessary features, customizations and migrate to other features. It is the one-stop solution that has everything needed in the emerging market."
Naresh Bordia, VP, Business Development, Radixweb OnPrintShop added, "Web-to-print being one of the top three priorities according to drupa 16 reports, OnPrintShop grabbed maximum attention on the floor. We have been working with more than 500 PSPs, developed a wide range of solutions – multistore, trade printer, photobook, book module, consistently adding new features to be a trouble-shooter for our clients, which was much appreciated in the event. Customers have acknowledged the consistent upgrades that we offer and the way the solution and services have further matured since drupa 2012 to be better. The case studies that we shared have also helped PSPs a lot in knowing about their challenges and ways to resolve them through our solution. We also look forward to announcing new resellers in South America, Asia and Europe."
Dharmesh Acharya, COO, Radixweb OnPrintShop Says, "The buzz on the floor each day was impressive and which certainly helped us to achieve the increasing numbers each day. Once again we came to drupa with our innovations in web-to-print technology and we're overwhelmed the way it got appreciated by attendees. Our success touched to a pinnacle when our social media team performed outstanding and managed to stand out in such a tough competition and grabbed the 'Social Media Champion' trophy TWICE by engaging and actively helping the show attendees to make the most of drupa 2016 via Twitter." We're proud to be the leader in web-to-print market and will keep inventing ways our solutions can positively impact the PSPs business worldwide."
"We had clients who flew down to Germany to meet us exclusively and referral clients too. Multiple visits by the same clients with their different team members for the personalized live demo was an important highlight for us at the event", said Mr. Naimish Patel, Sr. Business Development Manager, OnPrintShop.
"drupa 2016 has come to an end, but we have came back with a great learning and memorable experiences to cherish lifelong. We look forward to drupa 2020 and having an even better show four years down the line with an even more advanced solution enhanced with the new features," concluded Naresh Bordia, VP, Business Development.
To know more about OnPrintShop cutting-edge web-to-print solutions please visit - http://www.onprintshop.com