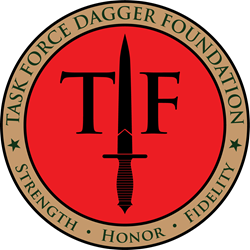 McKinney, Texas (PRWEB) June 23, 2016
Virginia Beach resident Sean Kelly suffered from depression after a long military career in the special operations community. He turned towards the water to find peace and set out to accomplish a personal mission: a solo 50-mile paddle. Kelly decided to raise funds for a veterans charity and turned to the internet. He came across the story of another special operations veteran, Josh Collins, whom Kelly had served with previously. Collins was in the middle of a 3500-mile paddleboard journey named "Operation Phoenix", fundraising for Task Force Dagger Foundation, which had helped him and his family during his recovery post-career. After reaching out to Collins, Kelly decided to fundraise for the organization as well and the idea to host a rally in Virginia Beach on the day Collins would be paddling through was born.
The event featured a silent auction, raffle, a live auction and performances by Chase Payne, Veda St, and Buckshot. Collins spoke to the crowd about his journey and announced the retirement of his first paddleboard with battle scars from over 2300 miles at sea. CP Shucker's bid on and won the board during the live auction and will be displaying this piece of history, signed by Collins, at the restaurant on 2407 Pacific Ave, Virginia Beach.
Geoff Dardia, Founder and Director of the SOF Health Initiatives Program spoke candidly to the crowd about the misdiagnosed health issues special operations personnel experience throughout the course of their careers, and the treatments and solutions Task Force Dagger Foundation provides. "Proof is in the patient, and in the efficacy of our program," said Dardia. Magda R. Khalifa, Advisory Board member added, "The Virginia Beach event was significant because it introduced the SOF Health Initiatives Program to the sizable special operations community in the Hampton Roads area, and let veterans know there are private treatment options that work that do not involve medications."
Donations for Sean Kelly's endeavor can be contributed via: https://www.crowdrise.com/paddle-to-survive-depression. All proceeds go to Task Force Dagger Foundation's SOF Health Initiatives Program. Follow on Facebook: From Battle to Paddle.
Josh Collins will arrive in Washington D.C. on June 25 at Columbia Island Marina around 11am. His world record standup paddle board route will culminate on the morning of July 23rd in New York City at the Statue of Liberty in the Hudson Bay. There will be a rally for Josh at Pier A Harbor House at 12pm. The event will be open to the public and is expected to draw a large crowd. For more information, visit veteranvoyage360.com.