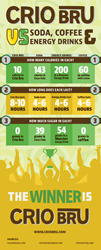 New York City, NY (PRWEB) June 27, 2016
Crio Bru today announced expansion of its fall flavor lineup with the addition of Crio Bru Chuno brewed cocoa, created using the highest grade Nicaraguan cocoa beans. Now totaling eight varieties of its popular artisan brewed cocoa beverage, Chuno is set to hit store shelves this fall. It is the first of several planned variations of Nicaragua's rapidly growing cocao crop. Also coming this fall is an expanded line of Crio Bru Durci artisan chocolate. Samples of Crio Bru brewed cocoa and Durci chocolate are available at the Summer Fancy Food Show in NYC, booth #2070.
"This is an exciting time for consumers of fine cocoa products," states Dr. Eric Durtschi, CEO and founder for Crio Bru."We've been able to apply advanced crop science to enhance quality and the nuanced flavors we now produce. Consumer demand is rising rapidly with monthly shipments now topping thirty tons and year over year growth topping 300 percent."
In his recent product review in Gear Junkie, Josh Aldridge reported, "During a month-long project in Peru, I had the opportunity to taste cocoa that was so recently removed from the tree that calling it "fresh" isn't enough. It was new, virginal, perfect. Crio Bru is the closest thing I've found to that experience."
Enthusiasts are sharing Crio love in Social Media. Heather writes, "This is hands down my new favorite." Brittany chimes, "I am absolutely addicted to Crio Bru." Saunder adds, "This is my morning jam." Others find new ways to use Crio in cooking. "I literally just made the BEST chocolate cupcakes ever last night! I used @CrioBru in the batter."
Among the newest additions to Crio Bru family of distributors are Sam's Club®, a division of WalMart Stores, Inc., and Sprouts Farmers Market, Inc. Additionally, Crio Bru just announced availability of single-serve K-Cup packaging in addition to existing bags for brewing in French press or coffee maker. Watch Facebook for product demo dates at retailers everywhere.
Crio Bru plays a key role in the community and agricultural development of emerging cocoa suppliers along the equator. Nicaragua's cocoa market is projected to double to 13,000 tons over the next five years. "We are committed to sharing best sustainable farming practices to assist local economies in our supplier nations, including Nicaragua," adds Dr. Durtschi.
Crio Bru's patented process takes the cocoa bean to new levels of flavor by controlling five key elements: variety, soil, fermentation, drying, and climate. The result is a consistently one of a kind artisan cocoa experience with a wide variety of flavors.
With headquarters in Utah, increased production soon goes online in Crio's new Santa Barbara, CA facility. Highlighted in Forbes and on Shark Tank, the company is a recent winner in the national Grow America startup competition. See more about the company on YouTube.
About Cro Bru:
Crio Bru is a brewed drink made from 100% cacao beans (also known as cocoa beans), roasted to perfection through a patent-pending, proprietary process. It is distributed both online and through a rapidly growing network of more than 1500 locations in almost every state and seven countries. Named after the most prized of cacao beans, the Criollo, Crio Brü astounds your taste buds with its complex chocolaty flavors and subtle aromas of the world's finest cacao beans. It is 100% natural - 100% pure.
Crio Bru is an ultimate superfood. It is low in calories and contains no sugar, no fat, no dairy, no sodium, no cholesterol and practically no caffeine, yet is extremely high in antioxidants, theobromine and a host of other vitamins and minerals.