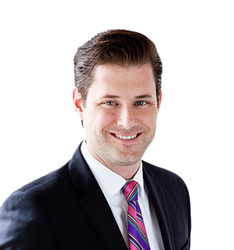 (PRWEB) June 23, 2016
On June 22nd 2016, three Morgan & Morgan Business Trial Group attorneys were named to the Super Lawyers Rising Stars list.
Business Trial Group attorneys William Lewis, Damien Prosser, and Benjamin Webster were awarded the Florida Rising Stars distinction in the Business Litigation category.
The Rising Stars distinction is awarded to the top 2.5% of attorneys in each state who are under the age of 40.
William Lewis, a partner out of the firm's West Palm Beach office, has a track record of achieving significant recoveries for business litigation clients throughout Florida. In addition to his state and federal practice, Mr. Lewis regularly represents investors and advisors in securities and employment-related FINRA arbitration.
Damien Prosser, a partner out of the firm's Orlando office, litigates business disputes in Florida state and federal courts. Mr. Prosser is committed to providing his clients increased access to our justice system by handling complex commercial cases on a success fee basis. This is his fifth year receiving the Rising Star distinction from Florida Super Lawyers.
Benjamin Webster, a partner out of the firm's Orlando office, litigates a wide range of commercial disputes, including real estate litigation, partnership breakups, contract disputes, and professional malpractice claims. Mr. Webster has been named to Florida Super Lawyers' Rising Stars list every year since 2013.
The Business Trial Group is the Florida-based commercial litigation practice of Morgan & Morgan, the nation's largest contingency-fee law firm. The firm's trial attorneys represent individuals and businesses on a contingency-fee basis in complex litigation involving contracts, construction, employment, real estate, and other commercial matters.
The firm has a reputation for winning high-stakes trials on behalf of its business clients. In 2016, the Business Trial Group has already won three jury verdicts in cases involving breaches of contract, unpaid commissions, and real estate disputes.
To learn more about the Business Trial Group, visit the firm's website.
Super Lawyers, a nationally recognized ratings system run by Thomson Reuters, identifies lawyers whose professional achievements have garnered significant recognition and acclaim.
Super Lawyers uses a patented rating system to determine which lawyers are eligible for the available distinctions. The comprehensive selection process involves nomination, research, and peer review.
Case information:
CIRCUIT COURT OF THE NINTH JUDICIAL CIRCUIT, IN AND FOR ORANGE COUNTY, FLORIDA
NATHAN P. DIXON, GPN. INC., and SAFE AMERICAN SECURITY, INC.; Plaintiffs VS. DAVID G. ROMAN and SECURITY SYSTEMS, INC., d/b/a SAFEGUARD AMERICA; Defendants
CASE NO: 2014-CA-002684-O
CIRCUIT COURT OF THE TWENTIETH JUDICIAL CIRCUIT IN AND FOR CHARLOTTE COUNTY, FLORIDA
FLORIDA OUTDOOR PROPERTIES, INC.; Plaintiff, V. AMERICAN CITRUS PRODUCTS CORPORATION, and CALUSA GROWERS, L.C.; Defendants
Case No. 2014-1498CA
CIRCUIT COURT OF THE NINTH JUDICIAL CIRCUIT, IN AND FOR ORANGE COUNTY, FLORIDA
MAX KING REALTY, LLC; Plaintiff, V.RAMAR, LLC,MARIAN RECU d/b/a RAMAR TRUCKING, and VASILE BARAC; Defendants
CASE NO. 2013-CA-004054-O