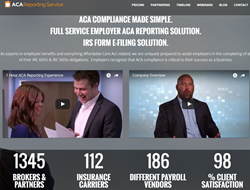 Greenville, SC (PRWEB) June 25, 2016
ACA Reporting Service is pleased to announce the release of Variable Hour ACA Tracking Software at no cost to employers. This software is available for download on demand at this link.
The Affordable Care Act requires applicable large employers (ALEs) to offer appropriate and affordable health coverage to their full time employees who work 30 or more hours per week (130 hours per month). Employers are also required to measure the hours worked of part time and variable hour employees to determine if an offer of coverage should be made.
In the marketplace, most employers are paying large, ongoing per employee per month fees to track their entire workforce. By utilizing our variable hour tracking software, employers can save significantly and only track the employees who's work schedules put into question their eligibility for coverage.
You can learn more at ACAReportingService.com