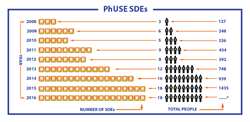 PhUSE has expanded into a truly global community of clinical data scientists
(PRWEB) June 28, 2016
The biggest membership driven community for clinical data scientists has reached a record-breaking 6,500 members. This time last year, PhUSE welcomed member number 5,000, resulting in an increase of 1,500 in one year. Its group membership has also risen, with 44 companies now having taken up membership in 2016.
Established in 2004, PhUSE began in the UK as a small society of 10 members. Now in its 12th year, it has expanded into a truly global community of statistical programmers, data managers and biostatisticians, in 30 countries across the world. Non-profit and volunteer supported, PhUSE is a community of professionals, passionate about the advancement of clinical science. Hosting 17 Single Day Events for its members in 2016, it also holds a European Annual Conference and an annual Computational Science Symposium in Washington, USA. Members have access to a wealth of material including keynote speaker videos, presentations and papers from past conferences, as well as resources such as the PhUSE Wiki.
The CSS (Computational Science Symposium) is a unique collaboration between PhUSE members, the FDA and CDISC and is based around working group projects undertaken throughout the year. Its success over the past five years has lead to the introduction of a new European CSS, recently held in Basel, Switzerland. With over 100 attendees taking part in interactive sessions and workshops, it focussed on cutting-edge, new project work, addressing industry challenges and unmet computational science needs.
As PhUSE looks towards its 2016 Annual Conference in October, to be held in Barcelona, it continues to lead the way as the premier biometrics conference in Europe. With a theme of "Fast Track to Approval: Speed & Efficiency" and an anticipated attendance of 650, this will be PhUSE's biggest conference yet, with membership expected to exceed 7,000 by the close of year.
About PhUSE
PhUSE, Share – Contribute – Advance, provides the industry with the premier platform for creating and sharing ideas, tools and standards around data, statistical and reporting technologies; PhUSE is a non-profit, volunteer-supported, community of professionals who are passionate about advancement of clinical data science. Since its inception, PhUSE has expanded from its roots as a conference for European Statistical Programmers, to a global platform for the discussion of topics encompassing the work of Data Managers, Biostatisticians, Statistical Programmers and clinical data scientists