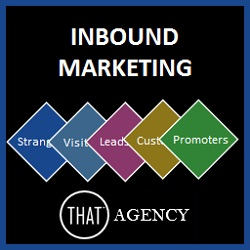 Our inbound marketing service means true growth for our clients. We're using cutting-edge tactics to ensure our clients get a conversion strategy that really works with inbound marketing. -- Michelle Sternbauer, EVP, Account Director
West Palm Beach, FL (PRWEB) June 28, 2016
The way people consume information and make their purchasing decisions is continually changing, and THAT Agency works to keep up with those changes for clients by adding the ideal service options to their line. The latest addition? Inbound Marketing, and it's certain to become one of the most effective options yet.
More Leads
Any company based in the world of sales is continually on the lookout for more leads, and statistics to date have indicated that inbound marketing does just that.
"One study from Hubspot suggested that inbound marketing practices produce 54% more leads than other typical services like direct mail," said Bill Teubner, President. "That's the level of power we're looking to offer our customers."
Companies in almost every vertical have started to turn to the inbound marketing approach because it complements their existing resources so well. While some agencies offer at least a piece of an inbound marketing strategy, few offer the all-inclusive package THAT Agency does with this new service option.
The Right First Step
For THAT Agency, the process of inbound marketing actually begins with a precise look at the company's online marketing goals. That painstaking research makes all the difference, as it helps to define which techniques will be utilized during the process. Finding the right combination of SEO, PPC, CRO, email marketing, and content strategy is an absolute must as it can lead to better client interaction as well as solid results.
"Our inbound marketing service means true growth for our clients. We're using cutting-edge tactics to ensure our clients get a conversion strategy that really works with inbound marketing," said Michelle Sternbauer, Account Director.
Few new service introductions have quite the influence this one will. Inbound marketing from THAT Agency is clearly the perfect accompaniment to a well-managed digital marketing campaign.
About THAT Agency
THAT Agency is one of the premier full-service, interactive web design agencies in West Palm Beach, FL., whose focus is all about their clients. In addition to their web designs and development, search engine optimization, pay per click management and social media marketing, THAT Agency also provides business planning services, such as: specification documentation, wireframes and competitor analyses, for companies of all sizes, from start-ups and sole proprietorships to Fortune 500 corporations. For more information about all of the services or to get a quote, visit http://www.thatagency.com or call (561) 832-6262.