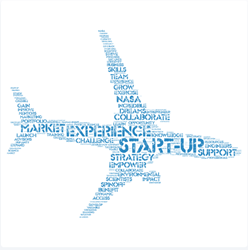 We are thrilled about the potential commercialization of NASA's promising inventions by the high caliber teams that CAI has recruited to come into the SPACE RACE from around the world.
Bethesda, Maryland (PRWEB) July 05, 2016
From a pool of more than 300 aspiring entrepreneurs with expertise in engineering, business, and law, thirty-seven multidisciplinary teams have been selected to write business plans in Phase 2 of the SPACE RACE startup challenge. The SPACE RACE is a first-of-a-kind, global initiative to launch startups around near-term, commercially viable NASA inventions. This startup challenge is being orchestrated by the Center for Advancing Innovation (CAI), a 501(c)3 non-profit, which has created thirty-three startups from similar startup challenges in partnership with the National Institutes of Health. From a portfolio of thousands of NASA inventions, CAI performed more than two years of due diligence and selected eleven, risk mitigated inventions to serve as the basis for additional startups to be launched from the challenge. The challenge is sponsored by the Medical Center of the Americas Foundation.
Inventions offered for licensing through the SPACE RACE originate from seven NASA field centers. Marshall Space Flight Center in Alabama is contributing an electrochemically enhanced mechanical polishing technology. Kennedy Space Center in Florida has furnished three inventions for the challenge: a device for wire fault detection and rerouting, the RASSOR robotic excavator, and a liquid coating for corrosion prevention in rebar. Langley Research Center in Virginia has contributed three inventions: a lightweight UAV sensing and control system, a kite-like wind power generation control system, and a set of surface particle contamination mitigation methods. Glenn Research Center in Ohio has two inventions in the challenge: a high-power density solid oxide fuel cell and fabrication process and a ceramic composite acoustic liner for aircraft engines. Goddard Space Flight Center in Maryland has a high-resolution, real-time three-dimensional imaging technology in the challenge. Finally, Ames Research Center in Northern California is providing a piezoelectric technology for energy harvesting.
Daniel Lockney, Technology Transfer Program Executive at NASA, said, "We are thrilled about the potential commercialization of NASA's promising inventions by the high caliber teams that CAI has recruited to come into the SPACE RACE from around the world." Rosemarie Truman, Founder and CEO of the Center for Advancing Innovation, added, "We believe the new startups launched from the challenge will be a catalyst for unprecedented economic impact. Our novel challenge-accelerator platform and the world-class mentors and advisors increase the probability of hyper-accelerating NASA invention commercialization."
To recruit participants to the SPACE RACE, CAI "crowdsourced" top talent from across the world through an outsized multi-channel cross-media campaign. This campaign included roadshows across the country with the NASA Technology Transfer Program leaders and outreach from NASA field centers. Working closely with NASA, CAI began its evaluation of SPACE RACE applicants in January 2016. The teams were evaluated on over forty criteria and represent over sixty universities from the United States and abroad. More than a quarter of the challenge teams are based outside of the United States. All startups launched from this competition will be planted in the United States along with other startups, created from CAI.
Leading professionals from aerospace, advanced manufacturing, venture capital, universities, foundations, and government will advise, mentor, and judge the challenge teams in three phases of the SPACE RACE. In addition, CAI and challenge advisors will coach teams on entrepreneurship and startups via forty training sessions. Consistent with NASA's mission to enhance scientific discovery and to cultivate future generations of space and aeronautics pioneers, this training is intended to bridge gaps between engineering and business. A subset of challenge advisors, mentors, and judges can be viewed at http://www.space-race.org/supporters.
David Hills, VP Research & Technology for Airbus Americas Inc. and SPACE RACE judge, said, "The successful commercialization of innovative ideas is the life blood of the aerospace industry, so we are honored to be able to support this process, CAI, NASA and the selected entrepreneurial teams." Rosemarie Truman added, "We reached out to many space luminaries to be mentors, advisors and judges; we are extremely grateful to those who agreed to provide their time and wisdom. As time is the most precious resource any of us has, we know how generous our SPACE RACE team is to help the next generation of engineers grow."
For Phase 1 of the SPACE RACE, forty teams submitted "deliverables" to provide an overview of their vision to commercialize NASA technology. These Phase 1 deliverables included publicly available two-minute elevator speeches and 350-word executive summaries, which CAI, SPACE RACE supporters, and the public voted on between June 6th and June 12th, 2016. Public voting accounted for 10% of the weighted average and was based on the number of "likes", "views", and "comments" for each elevator speech. At the end of Phase 1, thirty-seven "semi-finalists" were advanced to Phase 2 of the competition. Elevator speeches from these semi-finalists are available on the primary SPACE RACE website at http://www.space-race.org/semi-finalists/.
For the second phase of the SPACE RACE, semi-finalist teams will submit ten-page business plans and pitch to a panel of judges. "Finalists" from Phase 2 will be announced and advanced to Phase 3 of the competition on September 9th, 2016. "Winners" of the third and final phase of the competition will incorporate a business, apply for a NASA license, raise up to $1.2 million in seed funding from venture capitalists, and launch a startup with continued guidance from CAI.
Elevator speeches from teams in Phase 1 are available on YouTube. CAI and NASA invite viewers to share and to provide feedback on these elevator speeches at any time. Although the entry deadline for SPACE RACE teams has closed, teams may add members throughout the challenge. To apply to a SPACE RACE team, please visit http://www.space-race.org/interested.
About the Center for Advancing Innovation
The Center for Advancing Innovation (CAI) is a global public-private partnership non-profit focused on creating a virtuous circle of innovation and driving growth breakthroughs through novel, creative paradigms and models. CAI's mission is to accelerate and increase the volume of research commercialization in support of high growth business in order to ignite entrepreneurship, bolster the global economy and maximize the commercial and knowledge-based potential of promising inventions. CAI's award-winning challenge-based accelerator, rigorous fact-based due diligence and capital efficient lean management models serve to hyper-accelerate "gazelle" high-performing startups for outsized investor returns. For more information about CAI, please visit http://www.thecenterforadvancinginnovation.org