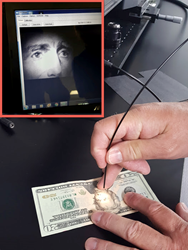 (PRWEB) June 27, 2016
Medit Inc. has launched a new super thin MICRON video borescope ( http://www.fiberscope.net/1-6-thin-video-borescope.html ) engineered and built especially for the inspection of micro bores, tiny holes and extremely narrow passages. Unlike most other tools featuring similar probe diameter, MICRON is not a fiberscope. Its 2000 mm long (6.56 ft.) ETFE coated flexible probe contains electric wiring running to the probe tip equipped with an video chip. The outer probe diameter is only 1.9 mm (0.0748 ''). A small lens or camera with a 90° field of view (FOV) and a 0° direction of view (DOV) is located at the very tip of the probe. In spite of its tiny size the camera boasts an advanced CIS CMOS sensor with 160,000 effective pixels. The image MICRON delivers is very clear and free of the honeycomb pattern often found in fiberoptic devices. The distal tip of the probe is its only rigid part. The rest of it is flexible and the probe can be used to navigate through bends.
The probe runs to the convenient handheld control unit and shackles to it via a connector. This allows the user to remove, replace or exchange the probe whenever necessary. Predictably, the rather small control unit does not has a display of its own and has to be connected to a computer through a USB port to visualize an inspection. However, this turns out to be an advantage. The user is free to use any viewing software, and capture and store as many photo and video files as needed.
The MICRON video borescope currently is one of the smallest diameter micro videoscopes in existence. It is made in the USA and comes with a one year warranty covering manufacturing defects.