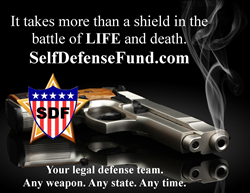 "The license to carry a gun community continues to be the least likely to commit crime. ," says Larry Keilberg, National Director for SDF
Fort Worth, Texas (PRWEB) June 24, 2016
SelfDefenseFund.com is a litigation protection membership covering individuals, families and businesses in regards to personal protection with the use of any weapon in all 50 states, U.S. Territories and Tribal Lands.
"The license to carry a gun community continues to be the least likely to commit crime. Most gun owners pass a criminal background check to be able to purchase a gun; however, licensees undergo even more scrutiny," says Larry Keilberg, National Director for SelfDefenseFund.com.
"We protect our members both civilly and criminally, should they ever have to use a weapon to include a gun for self-defense. We wanted to offer additional life- saving realistic training via shoot simulators that help hone active threat scenarios under stress," says Mr. Keilberg.
"We are proud to announce a co-promotion with Open Carry Texas founder CJ Grisham, Retired First Sergeant – U.S. Army who will be leading this critical training across the state and the nation," says Larry.
"Open Carry Texas is an educational non-profit dedicated to the safe and legal carry of firearms. To that end, we are proud to align with SelfDefenseFund.com to educate Texans on the safe and legal use of firearms in self-defense," said CJ Grisham
Overview of the training in brief: One hour of instruction, break, and one hour of "shoot no shoot" video/computer (virtual reality) simulator scenarios. The students will learn how to challenge, draw, and shoot as needed. This vital training will help the student recognize different types of confrontations, develop appropriate threat responses and understand the time constraints of violent encounters and potential legal consequences. Each scenario is followed by detailed, step-by-step tactical analysis showing the tell-tale signs in each situation and the appropriate force-based response.
"This is a shooting simulator designed to provide skill development for shooters of all ages and skill levels. Combining the use of state-of-the-art hardware and unbelievable software with full HD capabilities, this system delivers an incredible simulated shooting experience," Jason Trupp, Sales Manager, SES, Inc.
SelfDefenseFund.com: https://www.youtube.com/watch?v=uwyCQXlsIiA
Ti Training Pro-simulator overview: https://www.youtube.com/watch?v=StI7Df6BjPc
For more information please visit: http://selfdefensefund.com/open-carry-texas-training/
###