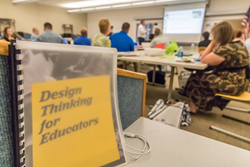 "In the classroom, we set the expectation that everyone will have to approach a problem multiple times." -Dr. Jaunine Fouché, MHS Science Curriculum Supervisor
HERSHEY, Pa. (PRWEB) June 24, 2016
Milton Hershey School recently hosted a Global Education Symposium where nationally-renowned thought leaders explored strategies for empowering students to thrive in an increasingly connected global world. Educators from Milton Hershey School discussed the concept of design thinking and how the school is successfully empowering students through empathy and problem solving.
"Productive failure leads to success, but students are still programmed to view failure as negative," said MHS Science Curriculum Supervisor, Dr. Jaunine Fouché. "In the classroom, we set the expectation that everyone will have to approach a problem multiple times."
Through on-demand learning activities that involve deep thinking and trial and error—such as planting campus pollinator gardens and designing trellises for bean plants—Milton Hershey School students are able to realize that a solution is not always a physical object but sometimes a change in process.
Specifically at the elementary level, MHS Elementary Division Principal Matt Campbell described the success of the school's Innovation Lab designed for first- through fourth-graders. In the lab, students complete activities like 3D printing, interactive coding exercises, and digital citizenship lessons. These projects provide students with an authentic purpose when solving a problem or completing a task.
"We're taking theoretical concepts and making them real," said Campbell. "Design thinking has changed the way our elementary students think—they use this way of thinking to problem-solve and learn."
For the school's AEE program, MHS Director of Agriculture and Environmental Education Crystal Huff explored the importance of exposing students to STEM careers. She leverages alumni and community connections in order to provide more STEAM opportunities.
Milton Hershey School has initiated a five-year plan to expose all students to design thinking and STEAM in a non-evaluative way.
More information about how Milton Hershey School is incorporating design thinking into its academic programs can be found at mhskids.org.
# # #
ABOUT MILTON HERSHEY SCHOOL
Milton Hershey School® is one of the world's best private schools, offering a top-notch education and positive home life to children in pre-kindergarten through 12th grade from families of lower income at no charge.