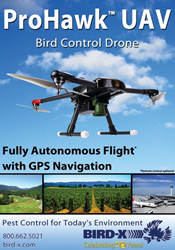 Chicago, IL (PRWEB) June 24, 2016
In June 2016, a Bird-X ad featuring the ProHawk™ UAV bird control drone ranked among the most effective ads in the AdEffect™ readership study conducted by Signet Research, Inc.
According to Signet Research, Inc., AdEffect™ awards recognize advertisers that receive outstanding readership response compared to other ads within a magazine issue. This particular study focused on the March 2016 issue of Pest Management Professional magazine.
To determine award winners, Signet Research, Inc., uses factors like ad creativity and reader's purchase consideration to study ad effectiveness. Studies contain a minimum pool of 100 respondents from the Pest Management Professional circulation list to provide feedback on each ad via an online portal.
The ProHawk™ UAV, which was featured in the ad, is a fully autonomous bird control drone. It works to deter pest birds with its terrifying physical presence and sonic predator calls and bird cries, alerting pest birds that an area is unsafe. Over time, pest birds become conditioned to not return to the area because of a perceived eminent danger.
Bird-X President Dennis Tilles explains that the company tries to push the boundaries on attention-grabbing and unique ads, especially with cutting-edge products like the ProHawk™ UAV.
"The pest control technology is always evolving as more and more building managers and architects are writing pest management into facility planning. We strive to differentiate our products, services, and all communication from our competition," says Tilles. "Bird-X sells products in over 160 countries, so our marketing team is constantly developing fresh ideas to reach new markets."
Bird-X has been the world's leader in humane bird and pest control since 1964, and is dedicated to protecting human health, wildlife, and the environment. They manufacture a complete line of exceptional pest control products with an unmatched focus on quality, efficacy, and customer service. For information on any of the Bird-X's pest control products, please call customer service at (800) 662-5021.