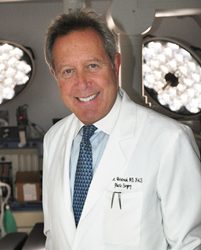 The most beautiful women in the world, and the most handsome men, look naturally attractive. Plastic surgery should be invisible
New York, NY (PRWEB) June 24, 2016
The Haute Beauty Network, affiliated with luxury lifestyle publication Haute Living, is proud to recognize Dr. Barry M. Weintraub as a prominent plastic surgeon and the network's newest partner.
Dr. Weintraub believes that "the most beautiful women in the world, and the most handsome men, look naturally attractive. Plastic surgery should be invisible." He stands by this philosophy to perform expert plastic surgery with unmatched precision, drawing in elite clientele from the United States and abroad.
Dr. Weintraub will share his skill and expert opinion with the Haute Beauty and Haute Living subscribers, educating readers on his field and providing exciting and relevant news, tips, trends and insight relating to his specialties.
About Dr. Barry Weintraub:
The recipient of countless awards and the National Spokesperson for the American Board of Plastic Surgery, Dr. Barry Weintraub is renowned for consistently delivering extraordinary results. One of the world's top plastic surgeons with expertise in rhinoplasty and facelift, as well as neck lift, eye lift, and revision rhinoplasty, he is often consulted on difficult cases due to his skill set and decades of experience.
Ivy League educated and Board Certified, Dr. Weintraub has been treating patients in NYC with the utmost care and professionalism for decades. Dr. Weintraub's philosophy of "less is more" appeals to many who are considering plastic surgery or any cosmetic procedure -- including injectables -- but are wary of looking unnatural or overdone.
Many patients travel from abroad to have surgery at his elite, hospital-grade, discreetly private facility. His international concierge program welcomes overseas patients to his New York office, tailored to foreigners and those who wish to be pampered with the most luxurious and outstanding experience, guaranteeing the utmost in privacy and personalized medicine.
Dedicated to fulfilling the aesthetic needs of every patient who walks through the door, Dr. Weintraub's reputation of being an excellent surgeon begins with one simple thing: listening. "A great surgeon should always, first and foremost, listen to his patients. No two patients are exactly alike. The challenge is to deliver the most refined surgery that is unquestionably tailored to each patient individually. This is the essence of true beauty."
More than 60 percent of Dr. Weintraub's practice is comprised of complex revisions of surgeries performed by other offices. These procedures always involve difficult issues since there exist not only the limitations of a patient's own anatomy, but also the limitations of another surgeon's aesthetic, and scar tissue that has developed as a result. Patients seek Dr. Weintraub from all over the world to correct their aesthetic problems. He takes great pride in getting the best results, and always enjoys the challenges of such procedures.
Dr. Weintraub's fully accredited surgical facility is located directly on Manhattan's exclusive Fifth Avenue. It has a private entrance and a hospital-grade operating room with hand-selected, board-certified anesthesiologists and nurses. It is easily the most discreet and elegant in the city of New York.