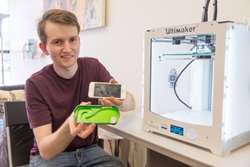 By integrating community colleges with the maker community, this grant will inspire innovation ...
Rocklin CA (PRWEB) June 25, 2016
Sierra College has been selected by the California Community Colleges Chancellor's Office (CCCCO), Workforce and Economic Development Division, to be the fiscal agent and technical assistance provider for the INNOVATIONMAKER3 and STEM/STEAM Workforce Development grant, announced Van Ton-Quinlivan, Vice Chancellor of Workforce and Economic Development, CCCCO. Sierra College will manage $17,000,000 over three years to support the success of the first statewide community college makerspace initiative of its kind in the nation to enhance Science, Technology, Engineering, Art and Math (STEM/STEAM) education.
Announcing this CCCCO Innovation Maker initiative during the 2016 National Week of Making demonstrates California's support of the White House's efforts to build a Nation of Makers, and commitment to giving students' experiences that spark an interest in science and technology careers, and fostering skills that they can use to contribute to the Innovation Economy.
"We want all Californians to be competitive for future jobs that value 'Maker' skillsets and will create that opportunity by connecting more community colleges to the Maker Movement," said Ton-Quinlivan. "With 113 community colleges, our scale can quickly extend access to these rich learning environments."
The CCCCO Innovation Maker initiative will provide mini-grants to colleges to establish or improve maker spaces, place students in internships, develop a framework to support community colleges in preparing students with 21st century skills desired by employers, and create a community of practice among colleges that will serve as a national model.
Willy Duncan, President, Sierra College Joint Community College District, noted that the statewide project will benefit from the experiences of "Hacker Lab Powered by Sierra College," the first community college public/private makerspace partnership in the nation. "We've already seen tremendous impact from having a maker space affiliated with the college and want to share what we've learned with other colleges," said Duncan.
With a college maker space, knowledge expands beyond the classroom to create new and unique solutions, inventions and processes for solving complex problems. "Students have developed skills, connected with industry experts and formed small businesses, and faculty has enhanced curriculum using industry models such as Adobe Kickbox," said Duncan. "By integrating community colleges with the maker community, this grant will inspire innovation, prepare students as entrepreneurs or for in-demand jobs, and boost our local and statewide economy."
Dale Dougherty, CEO, Maker Media, Chairman, Maker Education Initiative, Founder, MAKE magazine and creator of Maker Faire, will chair the Innovation Maker initiative advisory committee. The leadership group developing the strategy for grant implementation will be comprised of representatives from Kiva, Intel®, Adobe, Maker Ed, VSP Global®, Hacker Lab, Northrop Grumman, CCCCO Workforce and Economic Development Division, New World of Work, the Governor's Office of Economic Development (GO-Biz), California Asian Chamber of Commerce, California Council of Science & Technology, National Association for Community College Entrepreneurship, Foundation for California Community Colleges, Yuba College and Folsom Lake College.
Dougherty believes that this statewide project can develop models that can be replicated across the country. "We have a world with abundant technology but it takes talented people to solve problems that make a difference for society and individuals," said Dougherty. "We know that young people, who get exposed to making and are inspired, lead different lives than those who don't."
According to Dougherty, this grant connects education and making, giving fuller access to college students to develop their talents. "The maker movement is about democratization; it increases access to technology affordably," said Dougherty. "This grant brings together the perfect combination because community colleges are open to the broadest spectrum of students with the raw talent, and the maker movement is the great leveler, providing a supportive environment for students to use tools, develop skills and solve problems."
Carol Pepper-Kittredge, Director, Center for Applied Competitive Technologies, Sierra College, will manage the grant implementation. "The Leadership/Advisory Committee will be the voice and the inspiration for the Innovation Maker initiative to accelerate California Community Colleges' contribution to the Creative Economy," said Pepper-Kittredge. "We'll work hand-in-hand with a Technical Assistance Provider to help colleges set up maker spaces, engage students and faculty, partner with business and industry, and provide students with meaningful work-based experiences."
About Sierra College
Sierra College serves 3200 square miles of Northern CA with campuses in Roseville, Rocklin, Grass Valley and Truckee. With approximately 125 degree and certificate programs, Sierra College is ranked first in Northern California (Sacramento north) for transfers to four year universities, offers career/technical training and classes for upgrading job skills. Sierra College graduates can be found in businesses and industries throughout the region. More information at the Sierra College website.