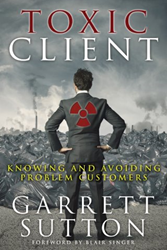 Reno, Nevada (PRWEB) July 13, 2016
Difficult customers are a staple of business, but what if a customer refuses to pay, insults or threatens employees, or makes unreasonable demands? In such cases, the customer not only isn't right, but is a toxic client who has the ability to bleed a business dry. Corporate Direct is pleased to announce the release of a new book to deal with such timely issues.
TOXIC CLIENT: Knowing And Avoiding Problem Customers, by corporate lawyer Garrett Sutton, equips business owners with the knowledge to detect and avoid toxic clients before they poison the business. The book distills what Sutton has learned from advising owners on corporate legal structures – where he has heard some of the horror stories first-hand – into case studies that illustrate the do's and don'ts of dealing with toxic customers.
TOXIC CLIENT describes the most common indicators of toxicity to be found in clients:

Asking for or expecting free advice
Not paying, or manipulating the payment process
Missing appointments or deadlines
Making impossible demands
Being abusive
Acting irrationally
No industry is immune to difficult clients who complain, constantly change their minds, yell, make unreasonable demands, second-guess, miss appointments, refuse to listen, or won't pay up. Through the case studies, readers will learn to recognize the toxic client before taking them on as a customer. According to Sutton, 95% of business owners have encountered toxic clients. "In listening to these stories and learning of the common experiences shared by all business owners it becomes abundantly clear: the customer is not always right," he says.
The best strategy for dealing with toxic clients is to avoid doing business with them in the first place. "Knowing that you will encounter a toxic client is the first step to avoiding them," says Sutton. "The next step is to set up a security system that enables you to detect the danger in advance. The third and final step is knowing how to minimize the damage if the problem individual does, indeed, get in your door."
TOXIC CLIENT instructs business owners in the essential steps to preventing toxic customers from infecting their business, such as:
Conducting research on the client
Noting potential red flags for toxicity
Setting up retainers and other advance payments
Protecting with clear contracts
Due diligence is a necessary but often overlooked step. Reviews of county clerks' files to see whether a potential client is litigious, or of mechanics' lien filings (which can indicate a lack of payment for work performed), or a simple credit check, may reveal a potential toxic client.
As Sutton notes, an 80/20 rule applies: 80% of a company's profits will come from 20% of its customers, and 80% of a company's problems will come from 20% of its customers. "Seek out the healthy relationships you want rather than passively waiting for inquires," he says. "If you are intentional about the kind of clients you want, you will take a more active versus passive role in shaping your future."
Sutton's lessons, advice, and examples will teach a wide-range of business owners, from doctors and lawyers to contractors and consultants, how to prevent problem customers from sapping precious resources, and allow them to focus on the customers that matter most.
# # #
About the Author
Garrett Sutton is a nationally acclaimed corporate attorney and asset protection expert. He has more than 30 years of experience in helping individuals and businesses determine appropriate corporate structures, limit liability, protect assets, and achieve goals. He is the founder of Corporate Direct and Sutton Law Center, which since 1988 have provided affordable asset protection and corporate formation and maintenance services.
Sutton is highly sought after as a guest speaker and serves as a member of the elite group of "Rich Dad Advisors" for bestselling author Robert Kiyosaki. He attended Colorado College and the University of California, Berkeley and obtained his law degree from the University of California Hastings College of Law in San Francisco.
For more information please visit http://www.CorporateDirect.com