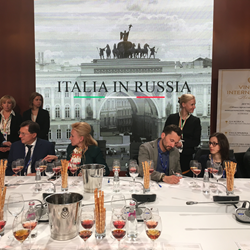 Today Italian wine has a crucial role in St. Petersbourgh's wine market
S. Petrsburg, Russia (PRWEB) June 24, 2016
The Vinitaly International Academy landed for its first time in St. Petersbourgh last week, on the occasion of the XX International Economic Forum. Italy's presence as guest of honour proved the willingness of both countries to prepare the grounds for a solid relationship and to keep on developing commercial relations despite the political tensions between Russia and the EU.
An enthusiastic audience attended the three Executive Wine Seminars of the Vinitaly International Academy, presented by Italian Wine Ambassador Nikolay Chashchinov: Ministers, entrepreneurs, bankers and journalists from different Countries greeted the guided wine tastings with enthusiasm during the first and last day of the Forum.
The first seminar focused on rosè and sweet wines, still very popular among Russian consumers. During the second tasting, Nikolay Chashchinov presented the characteristics and distinctive traits of the most important Italian terroirs, while the last seminar closed the series with an interesting overview of some of Italy's greatest wines.
"Today Italian wine has a crucial role in St. Petersbourgh's wine market, and this for several reasons" explained Nikolay Chashchinov, co-founder of Millesime Sommelier School. "Firstly, the popularity of Italian cuisine: in the past few years the city has witnessed the opening of many cooking schools that teach a wide range of recipes, from pizza and pasta to gourmet cuisine. The concept of "Italian food" is inseparable from that of "Italian wine", and for this reason Italian wine sales in Russia are constantly increasing". Another important factor is the true passion for Italy and its culture, which is further fostered by big local importers who are actively committed to organizing workshops and guided tastings in the city throughout the year. "St. Petersbourgh also has a very active tourist industry" adds Chashchinov, "The increase in the flow of tourists from all over the world is directly proportional to wine consumption and sales, in particular of Italian wine".
"St. Petersbourgh and Moscow are the driving force behind Russia's most recent wine trends" explains Anatoly Korneev, vice-president of Simple Group, one of the major wine importers in Russia. "Amongst them, a strong passion not only for sparkling wines and Prosecco, but also for still white wines, especially the light ones with steely or floreal and citrus flavours, like Vermentino."
More recently, in addition to an increased interest in organic wines, professionals and consumers have started to approach lesser-known wines such as Verdicchio, Aglianico, and Nerello Mascalese, especially because of their good value for money. Many difficulties today but also many opportunities in Russia today for Italian winemakers willing to invest in a market that is showing great potential and where Italy still maintains its leadership.
"We are the market leaders both for still and sparkling wines with a shares of respectively 23% and 63%" explains Pier Paolo Celeste, Director of the Italian Trade Agency (ICE) in Moscow. "In the first four months of 2016 we have also observed another +4,1% increase in value and +11,3% in volume".
"Italy's presence at SPIEF has not been a point of arrival, but rather a starting point" concluded Cesare Maria Ragaglini, Italian Ambassador in Moscow. "We aim to increase investments and the collaboration between Italian and Russian companies and the presence of the Italian Prime Minister has been a positive signal in this sense. The Italian Pavilion has represented an important showcase for our companies and a point of convergence with Russian businesses in St. Petersbourgh"
About:
Veronafiere is the leading organizer of trade shows in Italy including Vinitaly (http://www.vinitaly.com), the largest wine and spirits fair in the world. During its 50th edition Vinitaly counted more than 4,100 exhibitors on a 100,000+ square meter area and 130,000 visitors from 140 different countries. The next edition of the fair will take place on 9 - 12 April 2017. The premier event to Vinitaly, OperaWine (http://www.vinitalyinternational.com) "Finest Italian Wines: 100 Great Producers," will unite international wine professionals on April 8th in the heart of Verona, offering them the unique opportunity to discover and taste the wines of the 100 Best Italian Producers, as selected by Wine Spectator. Since 1998 Vinitaly International travels to several countries such as Russia, China, USA and Hong Kong thanks to its strategic arm abroad, Vinitaly International. In February 2014 Vinitaly International launched an educational project, the Vinitaly International Academy (VIA) with the aim of divulging and broadcasting the excellence and diversity of Italian wine around the globe. VIA this year launched the second edition of its Certification Course and today counts 54 Italian Wine Ambassadors and 3 Italian Wine Experts.
###