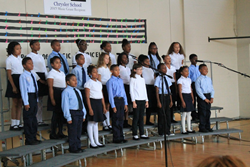 "We know music makes a valuable lasting impression in every student's life, empowering them to be productive, engaged, and empathetic citizens in their communities.
RESTON, VA (PRWEB) June 27, 2016
Continuing a five-year collaborative relationship supporting music education, today Give a Note Foundation and 21st Century Fox opened the nomination process for a new grant program which will benefit the music programs of 20 inspiring music educators across the United States.
This new round of grants will honor the legacy of American Idol, a series that encouraged people to dream big and follow their passion for music. Give a Note Foundation will solicit nominations for "Music Education Idols" from students, parents, and the general public. To nominate a music educator, individuals will complete a short application and include a video testimonial (up to 30 seconds) describing how the music teacher inspired them to discover their creative potential.
Nominations open today, June 27, 2016, following Friday's grant program announcement at the annual leadership meeting of the National Association for Music Education (NAfME), an affiliated organization of Give a Note Foundation. Nominations close on October 1, and the 20 winners will be announced on October 21.
"All of us at Give a Note are so excited to learn about all the stories of inspiring music educators around the nation, stories about teachers who made a lasting impact on the lives of students through the power of music," said Beth Slusher, Give a Note President and Board Chair. "Music makes a valuable lasting impression in every student's life, empowering them to be productive, engaged, and empathetic citizens in their communities. We are thrilled to continue this partnership with 21st Century Fox to shine a spotlight on what's working well and benefiting students in U.S. schools."
Since 2011, 21st Century Fox businesses have donated more than $1 million to underfunded music programs in schools across the country, as part of the company's commitment to support the next generation of artists and creators.
"We hope that highlighting the stories of students – and the exceptional music teachers who motivated them – will illustrate the vital importance of music education in schools today," said Shira Oberlander, Executive Director of Social Impact for 21st Century Fox. "21st Century Fox is proud to partner with Give a Note Foundation to bring those stories to light, and award grants to the schools of 20 remarkable teachers."
Nominations will be reviewed by a committee of 21st Century Fox executives and Give a Note Board Members. 20 music educators will be selected as winners and presented with a $1,000 grant for their school music program at a school-level celebration, taking place between October 21 and November 18. Of the 20 winning music educators, five will be selected to attend the 2016 NAfME National In-Service Conference (November 10-13) in Grapevine, TX, as VIP guests and will take part in a panel discussion on how to help students reach their full potential.
Individuals are encouraged to share their own stories their personal social media channels such as Twitter, Instagram, and Facebook, using the hashtag #MusicEdIdol.
To nominate a Music Education Idol in your community, visit bit.ly/MusicEdIdol.
To learn more about Give a Note Foundation, visit http://www.giveanote.org. To learn more about 21st Century Fox Social Impact, visit impact.21CF.com.
# # #
About Give a Note Foundation
Since 2011, Give a Note Foundation has conducted national awareness campaigns and raised funds to support and strengthen music education programs across the U.S. The programs have reached millions of parents and students and provided more than $1.2 million in direct grants to schools. Learn more about Give a Note Foundation Help give the gift of music! Text "MusicEd GAN" to 20222 to donate $10! Message & Data Rates May Apply. Details: http://www.giveanote.org/contribute/
About 21st Century Fox
21st Century Fox is the world's premier portfolio of cable, broadcast, film, pay TV and satellite assets spanning six continents across the globe. Reaching more than 1.8 billion subscribers in approximately 50 local languages every day, 21st Century Fox is home to a global portfolio of cable and broadcasting networks and properties, including FOX, FX, FXX, FXM, FS1, Fox News Channel, Fox Business Network, FOX Sports, Fox Sports Networks, National Geographic Partners, STAR India, 28 local television stations in the U.S. and more than 350 international channels; film studio Twentieth Century Fox Film; and television production studios Twentieth Century Fox Television and a 50% ownership interest in Endemol Shine Group. The Company also holds a 39.1% ownership interest in Sky, Europe's leading entertainment company, which serves 21 million customers across five countries. For more information about 21st Century Fox, please visit http://www.21CF.com.
Media Contacts:
Jane Mell Balek
Give a Note Foundation
(703) 860-4000 ext. 228
janeb(at)giveanote(dot)org
Nathaniel Brown
21st Century Fox
(212) 852-7746
nbrown(at)21CF(dot)com