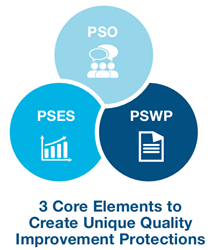 While PSO establishment is of particular interest to hospitals, from a litigation standpoint, the same protections are afforded to other healthcare providers—physicians, EMS, pharmacies, and the like—who participate in the improvement of patient safety
Knoxville, TN (PRWEB) July 05, 2016
National management consulting and accounting firm PYA has aligned with the Alliance for Quality Improvement and Patient Safety (AQIPS), the leading professional association for Patient Safety Organizations (PSOs), to offer compliance assessment programs. Through its alliance with AQIPS and significant, practical experience, PYA can help healthcare organizations establish PSOs and implement Patient Safety and Evaluation Systems (PSESs) that are in accordance with both The Patient Safety and Quality Improvement Act of 2005 (Patient Safety Act) and the Affordable Care Act.
Beginning in 2017, hospitals with 50+ beds must have a PSES (or comparable arrangement) in place to qualify as a provider for health plans participating in a health insurance exchange. "While the impending government mandate is reason enough to establish a PSO and implement a PSES, organizations who do so will also exercise the protections afforded by the Patient Safety Act and may realize cost savings, including malpractice and operational costs," said PYA Principal Lori Foley. "Through implementation and ongoing monitoring of a PSES, hospitals can openly share information, improve patient safety, and potentially save lives while limiting exposure to litigation or professional reputational harm."
"While PSO establishment is of particular interest to hospitals, from a litigation standpoint, the same protections are afforded to other healthcare providers—physicians, EMS, pharmacies, and the like—who participate in the improvement of patient safety," said Foley.
PYA's Patient Safety Organization Advisory team provides a broad range of PSO-related services that help establish and promote best practices, enhance quality initiatives, support performance improvement, reduce healthcare costs, and decrease enterprise risks. Service offerings include PSO development and assistance with the federal listing process, design and implementation of PSESs, analysis to enhance information sharing among participating providers, education of management and participants, and AQIPS PSO High-Performing and PSES High-Quality Certification Assessments.
About PYA
For over three decades, PYA (Pershing Yoakley & Associates, P.C.), a national healthcare consulting firm, has helped clients navigate and derive value amid complex challenges related to regulatory compliance, mergers and acquisitions, governance, business valuations and fair market value assessments, multi-unit business and clinical integrations, best practices, tax and assurance, business analysis, and operations optimization.
PYA's steadfast commitment to an unwavering client-centric culture has served the firm's clients well. PYA is now ranked by Modern Healthcare as the nation's 9th largest privately owned healthcare consulting firm. PYA affiliate companies offer clients world-class data analytics, professional real estate development and advisory resources for healthcare providers, comprehensive claims audits for self-insured Fortune 500 companies, wealth management and retirement plan administration, and business transitions consulting.
For more information, please visit http://www.pyapc.com.