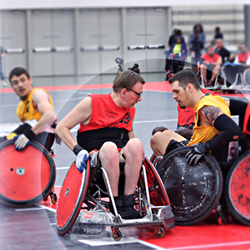 "I am looking forward to being in Salt Lake City with my teammates and am anxious about my performance in the events." - Todd Kemery, Vice President of Minnesota Paralyzed Veterans of America
(PRWEB) June 27, 2016
The 36th Annual National Veterans Wheelchair Games kicks off today and goes through Saturday, July 2nd, 2016 in beautiful Salt Lake City, Utah. Hosted by the Salt Lake City Health Care System and Paralyzed Veterans of America, the entire week is filled with incredible events but what is more exciting is who is participating in the competitions. Hundreds of paralyzed veteran athletes will be traveling from all across the country (and even Great Britain) to partake in this national sporting event.
The National Veterans Wheelchair Games (NVWG) was started by a partnership with the Paralyzed Veterans of America (PVA) and the Department of Veterans Affairs (VA) to get veterans more involved and active within their communities as well as benefit their mind, body and spirit. To compete, the veteran must be "U.S. military service veterans who use wheelchairs for sports competition due to spinal cord injuries, certain neurological conditions, amputations or other mobility impairments," according the official rules of the NVWG.
This year there are 19 events in the National Veterans Wheelchair Games including 9-Ball, Air Guns, Archery, Basketball, Boccia, Bowling, Handcycling, Field Events, Motor Rally, Power Soccer, Quad Rugby, Slalom, Softball, Swimming, Table Tennis, Track, Trapshooting, Triathlon, and Weightlifting. Most of the events will be held at the Calvin L. Rampton Salt Palace Convention Center in Salt Lake City and other local venues.
For the second year in a row, BLVD.com is excited to support the Minnesota Paralyzed Veterans of America during the National Veterans Wheelchair Games. As a Co-Sponsor of the MN PVA with LiveAbility (Minnesota's Complete In Home Mobility Specialists), BLVD.com will be providing media support to the group.
This year there will be 20+ veteran athletes from Minnesota including Todd Kemery, the Vice President of the MN PVA. Mr. Kemery shared the following, "This will be my 15th Games and I still get those pre-travel/pre-games butterflies. I am looking forward to being in Salt Lake City with my teammates and am anxious about my performance in the events. There is great anticipation for the process or the life that this event takes on, all of those emotions rolled into one. I feel all of that with the same intensity as if it were my first experience as a novice back in 2001, headed for NYC. Good luck to everyone on the Minnesota Team and a huge thank you for our coaches and volunteers. None of this would be possible if it weren't for the long hours that they put in."
Mr. Kemery mentioned a very important part of the Games…the coaches. These individuals volunteer their time to assist the athletes with their equipment, help with transferring, and provide overall support throughout the competition. Each PVA group has a select number of coaches who are comprised of VA medical staff or are from other organizations. The Minnesota PVA has five coaches this year including Sue Miller, Mike Kahler, Fran Price, Daniel Cummings and Becky Wittig. The 36th Annual National Veterans Wheelchair Games is sure to be another great display of competition, courage and camaraderie.
About BLVD.com
BLVD.com is an online resource for people to come together to learn, share and live life to the fullest with access to mobility products and services. Consumers will be able to compare products and contact mobility businesses for numerous accessible needs. Its members will have the opportunity to present real time company information, inventory, and promotional opportunities to enhance its marketing and business opportunities. Visit http://www.blvd.com to learn more about all the site offers including membership information.