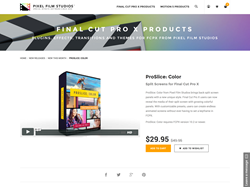 FCPX editors can now reveal their media with growing colorful split screen panels that are fully customizable inside of Final Cut Pro X
Aliso Viejo, California (PRWEB) June 27, 2016
"FCPX editors can now reveal their media with growing colorful split screen panels that are fully customizable inside of Final Cut Pro X," said Christina Austin - CEO of Pixel Film Studios.
ProSlice Color brings the split screens back with another unique style. Final Cut Pro X users can now reveal the media of their split screens with growing colorful panels.
ProSlice Color gives FCPX users the ability to change the color, direction, and shape of every panel. No split screen image will look like the next.
With easy-to-use controls found in the FCPX Inspector window, editors can quickly customize their Split Screen to fit any scene. Users can control color, direction, and shape.
Designed for Final Cut Pro X, users can simply drag and drop the split screen adjustment layer over their background and then adjust the look. Editors can instantly give their film the style it needs with just a few clicks of a mouse.
Established in 2006, Aliso Viejo, California-based Pixel Film Studios is an innovative developer of visual effects tools for the post-production and broadcast community. Their products are integrated with popular non-linear editing and compositing products from Apple FCPX. Apple, the Apple logo, Mac OS X, and Macintosh are registered trademarks of Apple Inc. in the U.S. and/or other countries. All other trademarks and trade names are the property of their respective owners.