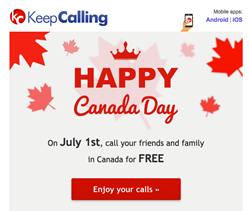 Reliable & efficient. We've been using KeepCalling for 4 years now, mainly to call South Africa from the UK. Call quality has always been as good as any, rates are great. (Mr M Jennings on Trustpilot)
Atlanta, Georgia (PRWEB) June 27, 2016
Everyone interested to call landlines in Canada has the chance to call for free on July 1st, 2016. This is possible only with KeepCalling.com, the website that has been facilitating long-distance calls since 2002. In order to make calls to Canada without paying anything, one needs to have a free account on KeepCalling.com and a minimum of $0.01 balance (hence automatically a PIN). To open an account and buy a minimum of $2 lifetime balance takes few seconds on http://keepcalling.com/
This offer of 100% discount on calls to landlines in Canada addresses both Canadian residents and Canadians abroad who make long-distance calls to certain areas in Canada. The only exception are the three territories Yukon, Nunavut and Northwest Territories. Therefore, the promotion on July 1st is available until 23:59 EST, for everyone with a PIN on KeepCalling.com, and for all calls to and within Canada, except the three regions mentioned above.
Except July 1st, calls to landlines in Canada are charged the standard rate of 0.7 ¢/min and calls to Yukon, Nunavut and Northwest Territories cost 8.9 ¢/min. So, for $10, one gets 1428 minutes to call landlines in Canada. The balance never expires. The same $10 Voice Credit balance can be used to call other world destinations, as well as text mobiles in Canada or other countries.
For those new to KeepCalling.com, the PIN helps one make calls as if using a calling card, with the only exception that an online purchase helps one avoid going to the store to get the plastic calling card. The PIN from KeepCalling.com will be received after the first Voice Credit order of minimum $2 on the website. The balance is for lifetime, and no extra costs apply. This will give customers the opportunity to make calls to Canada and pay nothing on July 1st, while the initial $2 balance that came with the PIN can be used in the future, without any time bounds.
There are 3 different ways to call with KeepCalling.com:
-Smartphone users can use KeepCalling app for iOS and Android.
-Those who prefer to call without using the Internet, can use an access number in the area they live.
-Those who prefer to call from their PC, sitting in a comfortable chair, can use Web Call desktop app available in one's account; it requires no download.
Plus, for any online purchase on KeepCalling.com, one gets a certain amount of Thank You points according to the value of the credit. These points can be converted into Voice Credit for future calls, without paying a thing.
Besides Voice Credit for calls to Canada, KeepCalling.com offers top ups of mobiles in other countries, and Virtual Numbers. For example, one can live in the USA and have a Virtual Number in Canada as if he or she lived there. This gives friends and relatives in Canada the chance to call the Virtual Number holder in USA or any other country in the world as if he or she lived two streets away.
Having an account on KeepCalling.com comes with a number of advantages:
-There are 4 features that can optimise calling.
-Customers have direct access to their calling records.
-All transactions and invoices are available online.
-Several payment methods are available: all major cards and PayPal.
-The account is mobile-friendly, just like the rest of the website, so anyone can access it on the go.
-Payment is welcome in any currency, no matter the country of residence.
-Promotions, contests and other events are available on Facebook for all fans or by email, once subscribed to the Newsletter ("Get offers" button in the footer of KeepCalling.com).
Many Canadians within or outside Canada prefer to get their Voice Credit balance online on KeepCalling.com. That is why rates to call Canada are so low. It is a big advantage of the virtual calling card generally speaking, compared to a regular calling card that one buys from the store.
KeepCalling.com is a website that facilitates long-distance calls. The service is widely used by diaspora due to this fact. The website is a brand of KeepCalling, a global telecommunications company registered in 2002 in the USA. Presently, KeepCalling provides its services to hundreds of thousands of consumers, with a focus on customer satisfaction. KeepCalling has been listed by Inc 5000 as one of the fastest growing companies in the USA for 5 consecutive years. In 2015 the company registered a revenue increase of over 200% from 2011 to 2014.