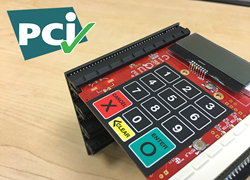 Salt Lake City, UT (PRWEB) June 28, 2016
Cirque, the leader in secure capacitive touch, is pleased to announce PCI PTS 4.0 approval for the K3 Tower PED Reference Design. The K3 Tower PED provides a complete platform for the rapid development of secure payment terminals. By jumpstarting their designs with the K3 platform, Point of Sale (POS) terminal developers can be confident they are building on a proven PCI certified foundation.
The K3 Tower PED includes a sleek and reliable capacitive PIN pad powered by Cirque's SecureSense™ technology, and a powerful Kinetis® K21F secure microcontroller from NXP. This hardware is combined with a reference firmware platform that includes pre-built modules for common payment functions such as AES and 3DES encryption and DUKPT key management. Firmware is provided as a source code project so that developers can customize the solution to their needs.
Cirque's SecureSense™ solution provides a unique method of capacitive sensing for touch input on keypads and touch screens. With SecureSense, sensitive data such as PIN numbers are protected from malicious bugs and attacks. SecureSense has a long track record of success in a wide variety of secure payment terminals for over 10 years.
For a list of all certified PCI PTS devices, including the K3 Tower PED, visit the website of the PCI Security Standards Council at the following link:
https://www.pcisecuritystandards.org/assessors_and_solutions/pin_transaction_devices
The K3 Tower PED is designed to function with NXP's Tower System. This modular system allows engineers to mix and match hardware based on their development targets. Several other tower modules are available from NXP to support additional payment functions, such as EMV chip card readers and contactless NFC modules. For more information about the Tower System, visit: http://www.nxp.com/TOWER
"The payment market continues to be an area of innovation and growth, but it can sometimes be intimidating for new players" says Brian Monson, Chief Operating Officer at Cirque. "The K3 tower platform removes a lot of work and risk, and allows our customers to focus on the innovation they do best."
About Cirque Corporation
Cirque Corporation is the original developer of capacitive sensing technology and continues to function as a market leader in a variety or markets such as notebook computers, industrial, medical and consumer electronics. To learn more about Cirque's wide range of capacitive touch solutions, visit http://www.cirque.com. For more about Cirque's innovative input solutions for the payment industry, visit us at http://www.cirque.com/secure-solutions, or contact us.
About NXP Semiconductors
NXP is one of the world's leading semiconductor companies and provides advanced solutions for a variety of markets including payment and secure terminals. For more information about NXP, visit: http://www.nxp.com
Cirque, SecureSense and all associated logos are trademarks of Cirque Corporation.
Kinetis and K21F are trademarks of NXP Semiconductors.