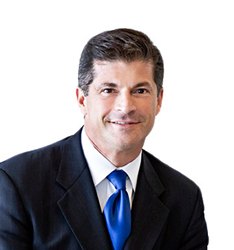 (PRWEB) June 24, 2016
On June 22nd 2016, Morgan & Morgan Business Trial Group attorney Paul SanGiovanni was named to the Florida Super Lawyers list.
Super Lawyers is a nationally recognized ratings system run by Thomson Reuters that identifies lawyers whose professional achievements have garnered significant recognition and acclaim. The Super Lawyer distinction is awarded to the top 5% of attorneys in Florida.
Mr. SanGiovanni has more than 30 years of experience representing clients in complex commercial and construction matters, including claims for owners, general contractors, and subcontractors on claims for payment, foreclosure of liens, claims against bonds, and construction defects. His experience includes disputes regarding large commercial projects, multi-family high rise developments, entertainment venues, theme parks and public projects.
Mr. SanGiovanni is also a leader in his profession, having served as the President of the Orange County Bar Association and his current service on the Board of Governors for the Florida Bar.
This year's selection marks the eighth year Mr. SanGiovanni's has been named a Florida Super Lawyer.
Morgan & Morgan's Business Trial Group handles complex commercial litigation on a contingency-fee basis. The Business Trial Group has recovered tens of millions of dollars for business clients since its inception in 2009.
The Firm is widely recognized for its trial success. Since January 2016, the Business Trial Group won three jury verdicts in cases involving breaches of contract ($784,000), unpaid commissions ($427,000), and real estate disputes ($423,000).
To learn more about the Business Trial Group, visit the firm's website.
Case information:
CIRCUIT COURT OF THE NINTH JUDICIAL CIRCUIT, IN AND FOR ORANGE COUNTY, FLORIDA
NATHAN P. DIXON, GPN. INC., and SAFE AMERICAN SECURITY, INC.; Plaintiffs VS. DAVID G. ROMAN and SECURITY SYSTEMS, INC., d/b/a SAFEGUARD AMERICA; Defendants
CASE NO: 2014-CA-002684-O
CIRCUIT COURT OF THE TWENTIETH JUDICIAL CIRCUIT IN AND FOR CHARLOTTE COUNTY, FLORIDA
FLORIDA OUTDOOR PROPERTIES, INC.; Plaintiff, V. AMERICAN CITRUS PRODUCTS CORPORATION, and CALUSA GROWERS, L.C.; Defendants
Case NO. 2014-1498CA
CIRCUIT COURT OF THE NINTH JUDICIAL CIRCUIT, IN AND FOR ORANGE COUNTY, FLORIDA
MAX KING REALTY, LLC; Plaintiff, V.RAMAR, LLC,MARIAN RECU d/b/a RAMAR TRUCKING, and VASILE BARAC; Defendants
CASE NO. 2013-CA-004054-O