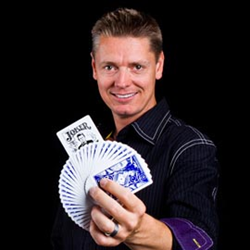 It not only causes want to be prankster to copy these impossible feats of public harassment, but worse, it's causing people to have preconceived notions (negatively) of what a prank is… we want to change that
San Luis Obispo, CA (PRWEB) June 30, 2016
Professional prankster and magician Rich Ferguson just returned from VidCon, a three-day conference held in Anaheim, CA. The conference, described as, "A yearly gathering of people who love online video," connects all sorts of big names in the industry with fans by offering a wide array of panels and discussions.
One topic that was addressed this year was how YouTube prank channels could deliver their message in a kinder way. This reaction, Ferguson says, is in response to a number of YouTube channels and videos that have been popping up that end up hurting people or personal property, harassing the subjects, or that are, "just plain rude."
"It seems like most 'prank' channels now are run by completely irresponsible jerks that are simply harassing people and damaging property," explains Ferguson, a professional magician and prankster who was been in the industry for nearly 20 years and has witnessed the culture change. Check out and subscribe to his channel here: http://www.youtube.com/ucmagic.
Some of these "pranks" have had serious repercussions, often causing property damage, and sometimes even injuring people involved. Ferguson says that harassment has become common practice too; some YouTubers sexually harass women and record their reactions. In a recent article by The Guardian entitled, "How video 'pranksters' are cashing in on the abuse and harassment of women?" author Laura Banks writes:
"Often euphemistically described as 'social experiments,' recent examples to hit the headlines have included YouTuber Sam Pepper's compilation of grabbing women's bottoms in the street and Brad Holmes's video showing his partner Jenny Davies in pain after using a tampon he had rubbed chili on as part of a 'prank.'"
Besides mean spirited pranks and pranks that are in actuality, just harassment, Ferguson says that there has been a recent upswing in social experiments and pranks that are totally fake. In fact, it's become so common that whole channels and websites have been dedicated to debunking fake pranks, such as Youtuber The Prank Reviewer or GradeAUnderA.
"It's all because they want attention and online 'fame,'" Ferguson says. "This last year there has been an explosion of pranking channels on YouTube…It doesn't take a lot of talent to do a mean prank. You just go harass people."
Some fake and offensive channels are generating millions of views, according to Ferguson. Many of these videos violate YouTube policy, however there are so many channels popping up, many of which are very small, that things fall through the cracks, he says.
Rich Ferguson is an award-winning entertainer who has published numerous products and has appeared on television shows such as Ellen, the Tonight Show, and Good Morning America. His latest mission is to #MakePranksGreatAgain. He says he's especially concerned about kids trying to emulate dangerous or offensive behavior.
"It not only causes those who want to be pranksters to copy these impossible feats of public harassment, but worse, it's causing people to have preconceived notions (negatively) of what a prank is… we want to change that," says Ferguson.
Ferguson says he wants to be one of the leaders in a movement against this kind of pranking. As one of the most famous and successful pranksters in the industry, he genuinely cares about the wellbeing of the "pranked" and wants to promote fun and respectful pranking and social experiments. He has started a hashtag, #MakePranksGreatAgain, to gain momentum for the movement.
Ferguson has nearly a million subscribers to his YouTube channel, where he makes prank and social experiment videos that are fun, safe and responsible. Check out and subscribe to his channel here: http://www.youtube.com/ucmagic.