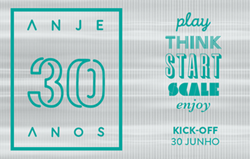 I am honored to be invited to speak at the ANJE 30th Anniversary Celebration with the Portuguese Prime Minister and Minister of the Economy. Talking to young entrepreneurs about how to better communicate their ideas is one of my greatest passions.
Porto, Portugal (PRWEB) June 27, 2016
The National Association of Young Entrepreneurs is celebrating its 30th anniversary this year and, to mark the date, there will be a three-part program of celebrations, the first of which is on 30 June at Casa do Farol in Porto. In the first part of the celebrations, ANJE will play host to masterclasses taught by three international speakers invited for the anniversary. At 5:45 pm in the auditorium of ANJE's national headquarters, Prime Minister António Costa and Minister of the Economy Manuel Caldeira Cabral will be speaking.
This set of initiatives thus reproduces the different stages of the evolution of an entrepreneur, from childhood to adulthood. ANJE has named these stages Play, Think, Start, Scale and Enjoy. "The idea is, on the one hand, to involve different audiences (children, young people and adults) and, on the other, to use entrepreneurship in different activities which are apparently recreational but in fact very useful for those wanting to start a business or are already managing one," explained the Chairman of ANJE, João Rafael Koehler.
ANJE's celebration will be recreating the path of an entrepreneur, from childhood learning to creating start-ups in adult life. This multidisciplinary event is divided into several initiatives, as if it were a personal story, reproducing the evolution of an entrepreneur. Following the path of an entrepreneur who, as a child, develops his/her creativity with digital games (Play), then takes a gap year in his/her late teens or early twenties to gain entrepreneurial skills (Think), later creating a startup (Start), accelerating the business idea (Scale) and promoting team spirit in his/her company (Enjoy).
The presence of António Costa and Manuel Caldeira Cabral will certainly be an opportunity to analyse the government's policy for entrepreneurship and for the Portuguese national economy in general. During the ceremony, there will also be masterclasses given by three international entrepreneurship and leadership gurus: Americans Ryan Foland, Rahfeal Gordon and Leo Bottary. The masterclasses will present extremely personal and innovative views of issues related to entrepreneurial dynamics in the knowledge society, incorporating both eminently motivational components and more technical components.
Masterclasses Taught by International Gurus
Divided into two thematic parts entitled "The 3-1-3 Theory: Your Big Idea in 3 Words" and "Secrets of Social Media Success in 2017", Ryan Foland's masterclasses will focus on communication strategies and the potential of social media in a business context. It is important to note that Ryan Foland has helped leaders all over the world simplify their messages (written or spoken) to make them clearer and more assertive for different audiences. This expert in communications created the 3-1-3 methodology, a process which consists of breaking down a presentation into three sentences, condensing them into one sentence and then further reducing that to three words.
"Having Ryan with us means that we will have the best communicator I have ever met to articulate our pitch and to get our message understood by our target," commented Miguel Dias, founder of CEO World and key partner the ANJE celebration event. "Every startup is about sales. Sales is about communication. Communication is about pitching. Pitching is about serving."
Based on this 3-1-3 method, Ryan promises that some frequent communication problems can be overcome, such as a fear of speaking in public, the inability to concisely explain a business or an idea, and the inability to build a personal and/or business brand on the web. Ryan, a writer for TechDayNews and a regular participant in TEDx events, also works in Communications at the Office of the Vice Provost for Teaching and Learning at the University of California, Irvine.
"The impact that ANJE has had on young entrepreneurs over the last 30 years is incredible," said Ryan Foland. "If I would have had access to the type of information they offer when I was starting off, it would have made a major difference in the trajectory of my entrepreneurial path. I am honored to visit Porto and share my experiences with such motivated young entrepreneurs."
The two other communication gurus teaching masterclasses are Rahfeal Gordon and Leo Bottary. Rahfeal will explain his methods for creating efficient leadership, cohesive teams and committed employees, using work contexts that favour company productivity. His masterclass is titled "Becoming a Successful Global Entrepreneur".
In turn, Leo is a leadership expert who is teaching a masterclass based on his methodology of interaction and information sharing between business leaders. As he explained in his book, The Power of Peers, CEOs and other senior staff tend to be isolated at the top of the company pyramid, which adversely affects their capacity to lead teams and run businesses.
"It will certainly be very worthwhile for any current or future entrepreneur to listen to three international experts in this area, Ryan Foland, Rahfeal Gordon and Leo Bottary," commented João Rafael Koehler.
After the first event on 30 June, ANJE's 30th anniversary celebrations will have two other moments of celebration: on 29 July, with an event in the gardens of Casa do Farol to mark the date the association was set up, and between 26 September and 1 October, with the Entrepreneurship Convention.
Ryan Foland is a master communicator. He coaches leaders worldwide on the art of simplifying spoken and written messaging for greater impact. He is the inventor of 3-1-3 Theory, a process whereby pitches begin as three sentences, condense into one sentence, then boil down to three words. Ryan writes for TechDayNews and has appeared in Inc., Entrepreneur, HuffPost, TEDx, KUCI and more. An entertaining speaker, toastmaster, and emcee, he serves as a public speaking mentor for a variety of thought leaders. Learn more at http://www.RyanFoland.com. For booking information and Electronic Press Kit visit http://www.epk.RyanFoland.com.