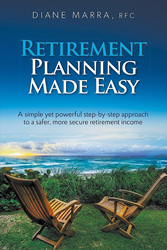 See how to plan for retirement from the comfort of your home!
New York New York (PRWEB) August 03, 2016
Take it from a registered financial consultant and investment advisor: "There is a simple yet powerful step-by-step approach to a safer, more secure retirement income!"
Diane Marra is always ready to advise clients in a private setting in her New York offices. But now readers can get her advice sitting in their own armchair at home. Her info-packed book and accompanying workbook are designed to streamline and personalize retirement income based on individual needs. Read her tips and tricks to make the most of personal savings.
Too many retirement portfolios fall short of what they promise. In a changing world where economic and financial landscapes are always in flux, now is the time to get peace of mind and plan for a retirement lifestyle that won't run out of money before it should. Retirement Planning Made Easy illustrates the fundamentals of a retirement planning approach designed to be more reliable and secure than the old-fashioned one-size-fits-all philosophies.
From procedures for preparing and setting up a plan, to insider insight on potentially devastating pitfalls, these strategies will help people succeed in managing retirement income. Simply put, this book is an investment in the future that helps empower everyone to make wiser decisions about retirement portfolios from a more informed position.
Watch the video at: https://www.youtube.com/watch?v=mJAI6IM-3S8
About the Author: Diane Marra is a registered financial consultant and the founder of Marra Financial Group in Nesconset, Long Island, New York. She is an investment advisor with Horter Investment Management, which is committed to empowering consumers with the knowledge necessary to make more informed decisions about their financial well-being. She offers her clients and readers a vast knowledge of retirement issues gained over 31 years in the financial services industry. The author lives on Long Island with her husband Paul and their three children.
To learn more, visit: http://www.marrafinancialgroup.com.
The compelling new book RETIREMENT PLANNING MADE EASY: A SIMPLE YET POWERFUL STEP-BY-STEP APPROACH TO A SAFER, MORE SECURE RETIREMENT INCOME (ISBN: 978-0-99722-170-1) is now available for $12.99 and can be ordered through:
http://howtoplanyourretirement.com/ or at Amazon.com or Barnesandnoble.com.
The accompanying workbook can also be ordered for $12.99: "The Retirement Planning Made Easy Workbook: a working companion guide to RETIREMENT PLANNING MADE EASY leading you step by step through understanding, planning for and protecting your retirement income."
Disclosure:
Investment advisory services offered through Horter Investment Management, LLC, an SEC-Registered Investment Advisor. Horter Investment Management does not provide legal or tax advice. Investment Advisor Representatives of Horter Investment Management may only conduct business with residents of the states and jurisdictions in which they are properly registered or exempt from registration requirements. Insurance and annuity products are sold separately through Diane Marra. Securities transactions for Horter Investment Management clients are placed through Trust Company of America, TD Ameritrade, Jefferson National Life Insurance Company, Security Benefit Life Insurance Company and ED&F Man Capital Markets.