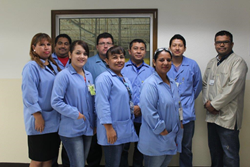 Cranston, RI USA (PRWEB) June 30, 2016
AIM Solder, a leading global manufacturer of solder assembly materials for the electronics industry, is pleased to announce that it provided IPC-A-610 training to several Universal Lighting Technologies employees in Mexico.
AIM's Technical Marketing Engineer, Andres Rojas, provided the CIS or Certified IPC Specialist training, which is designed to prepare line workers, operators, inspectors, managers and buyers to make informed decisions when assessing the quality and reliability of electronic assemblies according to the IPC quality standard.
"AIM has always provided Universal Lighting Technologies the foremost technical support and product training programs," said Universal Lighting Technologies' Quality Engineer Leader, Swami Hernandez. "The last training we received was on IPC-A-610 standards. This training has enabled us to get a better understanding of quality acceptability requirements in the industry, which we have been able to pass along to our associates to ensure improved control of our processes."
About AIM
Headquartered in Montreal, Canada, AIM Solder is a leading global manufacturer of assembly materials for the electronics industry with manufacturing, distribution and support facilities located throughout the world. AIM produces advanced solder products such as solder paste, liquid flux, cored wire, bar solder, epoxies, lead-free and halogen-free solder products, preforms, and specialty alloys such as indium and gold for a broad range of industries. A recipient of many prestigious SMT industry awards, AIM is strongly committed to innovative research and development of product and process improvement as well as providing customers with superior technical support, service and training. For more information about AIM, visit http://www.aimsolder.com.
Upcoming Events:
July 14, 2016 – SMTA Chihuahua – Chihuahua, CH
August 4, 2016 – SMTA Ohio – Cleveland, OH
August 30, 2016 – SMTA Capital – Laurel, MD