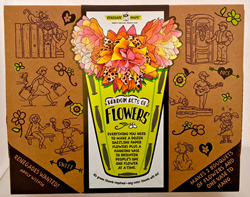 "The message I hope to send is that you have the power to change someone's day for the better, and that's a lot of power," said Nicole Jakob, creator of the kit.
KNOXVILLE, Tenn. (PRWEB) June 27, 2016
Founder and CEO of the national nonprofit Random Acts of Flowers, Larsen Jay, has a deep understanding of how a simple, caring gesture such as receiving a bouquet of flowers can bring a smile and encourage overall wellness. Now he is helping develop that sense of compassion in children through a partnership with a new toy company that specializes in altruistic craft and activity kits for kids.
Random Acts of Flowers, which recycles flowers by engaging volunteers to repurpose and deliver beautiful bouquets to encourage individuals in healthcare and senior living facilities across the country, has signed a licensing agreement with Chicago-based Renegade Made® for the sale of a paper flower making kit for kids bearing the nonprofit agency's name. The "Random Acts of Flowers" kit contains materials and directions to make 12 tissue paper flowers in a cardboard vase. Kids are directed not only on how to create the flowers, but also on how to encourage someone else by hanging the vase in a public space, such as on a chain link fence, a street sign or a bus stop. The message on the vase reads, "Take one," and each flower contains a leaf tag that reads, "I made this for you. Do something nice for someone today."
"When we heard about this concept, we saw immediately how perfectly it aligns with our mission," said Jay, who created Random Acts of Flowers eight years ago after suffering from a near-death accident and difficult recovery. "It's basically teaching kids at a very early age the impact you can make on someone's day through even the simplest of gestures – like giving them a flower."
The "Random Acts of Flowers" kit is part of a full line of self-contained crafts and activities developed by Renegade Made . Designed for kids ages 8 and up, the other Renegade Made products include "Fairly Painless Tattoo Lounge for Charity," "Sidewalk Chalk Tagging Kit," and "Made You Look Kit." Each kit consists of a craft that kids make at home, with the actionable component of going out and performing anonymous, kind gestures with the products they have created.
Founder Nicole Jakob, a former graphic artist and mother of three, said she wanted to create something to help develop a sense of compassion in kids while having fun at the same time.
"As an artist, I am very aware of street art, where someone leaves a piece of art in public for people to walk by and enjoy or simply ponder," said Jakob, a University of Arizona graduate who worked in graphic design and marketing for several years. "I came up with the idea for these kits while taking one of my long, brainstorming walks, thinking, 'I could create something for my kids to make and display that would make others happy, and they would still think it was cool.' "
Renegade Made kits, which are manufactured and safety tested to comply with American standards, were recently nominated for Best Toy for Kids by ASTRA, the American Specialty Toy Retail Association. They are available at several toy stores and bookstores in the U.S. and in Canada, including the Guggenheim Museum store in New York City, Children's Gift Shop and The Book Stall in the Chicago area, and online at Shep's Toy Shop on Amazon and UncommonGoods.com.
As a result of the licensing agreement, Renegade Made will donate a portion of its profits to Random Acts of Flowers to help fund the agency's ongoing mission and future growth. With branches in Chicago, Tampa Bay, Silicon Valley, Knoxville and soon-to-launch in Indianapolis, Random Acts of Flowers has delivered nearly 140,000 bouquets to individuals in healthcare and senior living facilities across the country.
Renegade Made also donates a portion of profits to Camp Kesem, which funds overnight camp for kids whose parents have been affected by cancer.
"The message I hope to send is that you have the power to change someone's day for the better, and that's a lot of power," Jakob said. "It doesn't have to be a big, grand gesture. It can be a small, little thing that is silly or funny, and makes someone who isn't having a great day laugh or smile or feel good."
###