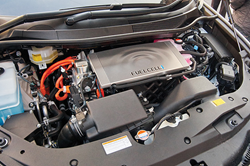 Polyonics flame retardant materials provide ID and warning labels that also help prevent the propagation of fire.
Westmoreland, NH (PRWEB) June 29, 2016
Polyonics manufactures flame retardant materials used by automakers for under-the-hood and interior ID, tracking and warning labels. The polyimide and polyester (PET) materials are rated by UL94 as meeting their VTM-0 standard and are tested by a third party laboratory as passing the rigorous FMVSS 302 automotive burn standard.
The thermal transfer and flexographic printable materials range from the low cost PET XF-611, with a 150°C operational temperature, to the high temperature polyimide XF-603 that operates at 260°C. The XF-603 is also rated to the UL94 V0 standard plus provides low smoke and toxicity per the aerospace BSS 7238/7239 standard.
Durable Fire Prevention
Polyonics flame retardant label materials provide superior ink reception for long lasting high contrast printing. Their durable print surfaces don't fade or yellow when exposed to the high temperatures, abrasion and harsh chemicals typical of under the hood and interior applications. The materials use FlameGard™ technology, a combination of PIN-based chemical and physical mechanisms, to control heat, oxygen and flammable gases and help prevent the propagation of fire. They also include aggressive flame retardant PSAs well suited for a wide variety of automotive applications.
Polyonics at a Glance
Polyonics manufactures high performance coated films that withstand high temperatures and harsh environments while protecting products from ESD and/or fire. The thermal transfer printable label and tag materials, engineered tapes, laser markable label materials and printable flexible substrates are used by converters and OEMs worldwide.